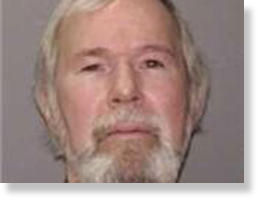 A man opened fire at a car wash and a barbershop a mile apart Wednesday morning, killing four people and wounding at least two others, and a 64-year-old suspect is being sought, police said.
Authorities are looking for Kurt Meyers, said Joseph Malone, the police chief for Herkimer and Mohawk. Officials say guns and ammunition were found inside his Mohawk apartment after emergency crews were sent to a fire there Wednesday morning.
Soon after, two people were fatally shot and two others wounded at John's Barber Shop, around the corner from the apartment, police said. The second shooting happened about a mile away in Herkimer, where two people were killed at Gaffey's Fast Lube and Car Wash, authorities said.
The two villages are about 65 miles east of Syracuse, on opposite sides of the Mohawk River in a region known as the Mohawk Valley.
Officials said Meyers remained at large Wednesday afternoon.
Late Wednesday morning, police SWAT teams and a helicopter converged on a jewelry store in Herkimer.
The
Utica Observer-Dispatch
reported that police were focusing on Freddy's Jewelers on Main Street, near the car wash and oil change business. The newspaper reported that officials in Mohawk, however, seemed to think the suspect was still on foot somewhere. Other reports suggested he may have been picked up by a taxi.
Herkimer County Community College and local schools are on lockdown. The college sent an automated cellphone alert around 10:40 a.m., telling students and staff that there was an "active shooter" in the area. The message identified the gunman as a man in his 60s, with a white beard and driving a red Jeep Cherokee. A text alert a few minutes later said the campus was on lockdown. Another alert advised people to remain inside buildings until further notice.
Amanda Viscomi, Herkimer's acting clerk-treasurer for the village of 7,700, told The Associated Press the shooting at Gaffey's happened a few blocks from village hall. She said she was told the shooter was at large and that state police, sheriff's deputies and other police were swarming the area.
"Everybody's on lockdown, all the schools, the college, the village," Viscomi said. "It's very, very scary."
Gov. Andrew Cuomo and the head of the state police are on their way to the area and are expected to brief the media later in the day.
Herkimer is named for the German immigrant family that settled in the western Mohawk Valley in the 1720s. The economically distressed villages are two miles away from Ilion, where a 2-century-old Remington Arms gun plant is a major employer.