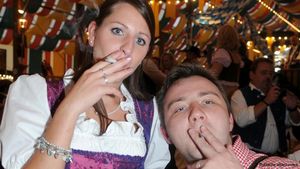 Voters in Switzerland have rejected a total ban on smoking in enclosed public places at a referendum.
Although Geneva voted slightly in favour, results from the country's other 25 cantons showed a majority of voters rejected a full ban.
Hotels, restaurants and bars are allowed rooms for smokers but critics say workers' health is at risk.
Restrictions introduced two years ago were watered down after lobbying from the catering trade and tobacco firms.
In some cantons, more than 70% of voters rejected the ban, according to Geneva newspaper
La Tribune de Geneve
. Geneva itself bucked the trend by supporting the ban by 52% to 48%.

Comment: A very interesting result. Geneva is the headquarters of the UN and many large multinational firms have offices there, a factor that undoubtedly attracts higher percentages of psychopaths and other character-disturbed people.


Geneva and seven other cantons have already imposed their own comprehensive bans on indoor smoking in places of employment while the remaining, smaller cantons have been less restrictive.
The result was welcomed by the Swiss Business Federation which called it "heartening".
"The initiative would have imposed more costs on restaurateurs who have already made considerable investments to protect non-smokers," it said in a statement.
Result 'deplored'
Swiss hotel association Hotelleriesuisse said it was relieved by the outcome. It said a "yes" vote would have made "some investments obsolete".
The Swiss Socialist party "deplored" the result, saying that better protection against passive smoking would have "incontestably been a major step in the improvement of (workers') conditions".

Comment: This just goes to show you how 'representative' political parties really are.


Speaking before the vote, Jean-Charles Rielle, a doctor and member of the committee behind the proposal, told AFP news agency that they wanted to clear up confusion created by the existing regulations.
"In the cantons where these laws [banning smoking rooms] are already in effect, we saw immediately... a 20% drop in hospitalisation due to cardiovascular incidents, heart attacks and these kinds of problems," he said.

Comment: Horse hockey!


La Tribune de Geneve
suggests voters rejected a full ban because they did not want to force the smaller cantons into changing their local laws, and because of resentment at perceived state interference in people's lives.