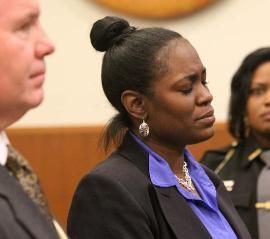 An Ohio mother of two was sentenced to 10 days in jail and placed on three years probation after sending her kids to a school district in which they did not live. Kelly Williams-Bolar was sentenced by Judge Patricia Cosgrove on Tuesday and will begin serving her sentence immediately.
The jury deliberated for seven hours and the courtroom was packed as the sentence was handed down. She was convicted on two counts of tampering with court records after registering her two girls as living with Williams Bolar's father when they actually lived with her. The family lived in the housing projects in Akron, Ohio, and the father's address was in nearby Copley Township.
Additionally, Williams-Bolar's father, Edward L. Williams, was charged with a fourth-degree felony of grand theft, in which he and his daughter are charged with defrauding the school system for two years of educational services for their girls. The court determined that sending their children to the wrong school was worth $30,500 in tuition.