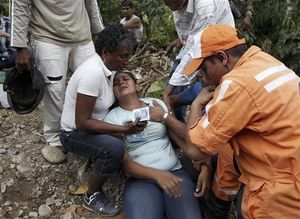 Sardinata - An explosion likely caused by a methane gas buildup ripped through an underground coal mine in Colombia during a shift change Wednesday, killing 21 workers, officials said. A similar fatal blast occurred at the same mine four years ago.
Five of the victims died at the mine's entrance and by afternoon two bodies had been removed from the mine with another 14 left to recover, said the provincial Colombian Red Cross director, Johel Enrique Rodriguez.
He told The Associated Press that rescuers had seen the rest of the bodies, which he said were covered in burns and scattered throughout the kilometer-long (0.6 mile-long) tunnel that extended horizontally beneath a verdant mountain.