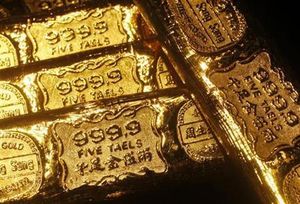 Gold vaulted to record highs above $1,700 an ounce on Monday, surging nearly 3 percent as European Central Bank's buying of Italian and Spanish bonds failed to ease debt fears after Standard & Poor's cut the top-notch AAA credit rating of the United States.
Wall Street plunged nearly 4 percent and other riskier assets collapsed as skittish investors sought a refuge from other safe havens such as U.S. Treasuries in the first session since S&P's downgrade, sending gold's option volatility to its highest level since May 2010 on bets the metal could rally further.
Gold is poised for its biggest one-day gain in nine months as investors bet that nothing short of further government intervention would stave off deepening woes. The Federal Open Market Committee's meeting on Tuesday may hint whether the U.S. central bank will ease monetary policy further.
"Investors are looking upon the ECB bond-buying as the first step toward the same kind of quantitative easing program the Fed is doing. So, gold acts as the only currency that you can't print more of, and you are seeing a huge institutional demand for it," James Rife, an assistant portfolio manager at Haber Trilix Advisors, which manages $2 billion in assets.
Spot gold was up 2.8 percent at $1,708.59 an ounce by 12:11 p.m. EDT, having hit a record $1,715.01 earlier and marking all-time highs against sterling and euros.
Silver surged 2.9 percent to $39.39 an ounce.
The prospect of an even longer period of low U.S. interest rates prompted Goldman Sachs (GS.N) to raise its longer-term forecast for the gold price. Goldman said it had lifted its forecasts to $1,645, $1,730 and $1,860 on a three-, six- and 12-month horizon. Goldman had previously forecast the gold price peaking at $1,600 an ounce in mid-2012.
In addition, JP Morgan said it now expects spot gold prices to climb to as much as $2,500 an ounce by year-end on very high volatility.
Platinum rose 0.3 percent to $1,717.24 an ounce, trading near parity to gold for the first time since late 2008.
Palladium was last down 2.6 percent at $720.48. Palladium price has fallen by more than 14 percent in the last six sessions after hitting a five-month high, weighed heavily by auto demand worries.