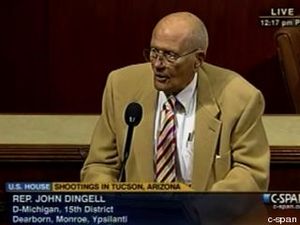 Members of Congress have, by and large, stayed out of the partisan fray over violent rhetoric in the wake of the Arizona shooting spree. But there have been some exceptions. Rep. Louie Gohmert (R-TX) took the opportunity to muse that the government may be withholding information about the crime because Jared Loughner is a flag-hating Marxist liberal who might embarrass President Obama.
Rep. John Dingell (D-MI), by contrast, ran through a litany of now-infamous statements by high-profile politicians, leaving blank the names of people and issues under threat.
"Let me read some statements that I have seen to be pretty awful," he said on Wednesday.