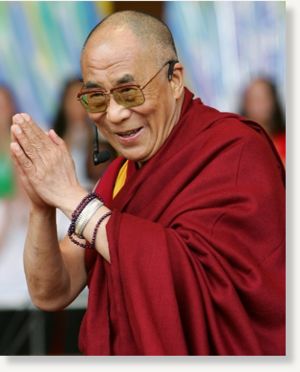 Tibet's exiled spiritual leader, the Dalai Lama, does not have a right to choose his successor any way he wants and must follow the historical and religious tradition of reincarnation, a Chinese official said Monday.
It is unclear how the 76-year-old Dalai Lama, who lives in India and is revered by many Tibetans, plans to pick his successor. He has said that the succession process could break with tradition -- either by being hand-picked by him or through democratic elections.
But Padma Choling, the Chinese-appointed governor of Tibet, said that the Dalai Lama had no right to abolish the institution of reincarnation, underscoring China's hardline stance on one of the most sensitive issues for the restless and remote region.
"I don't think this is appropriate. It's impossible, that's what I think," he said on the sidelines of the annual meeting of China's parliament, when asked about the Dalai Lama's suggestion that his successor may not be his reincarnation.
"We must respect the historical institutions and religious rituals of Tibetan Buddhism," said Padma Choling, a Tibetan and a former soldier in the People's Liberation Army. "I am afraid it is not up to anyone whether to abolish the reincarnation institution or not."