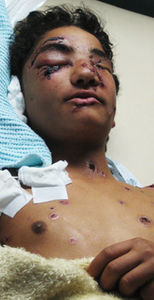 Israel, which originally denied the use of white phosphorus in Gaza when questioned by The Times two weeks ago, has since said that all weapons used in Gaza were "within the scope of international law". Most Nato countries, including Britain and the US, use white phosphorus to create smokescreens. Its use as a weapon of war in civilian areas is banned under the Geneva Convention of 1980.
The Times has uncovered dozens of incidents in which doctors say that civilians have been wounded by white phosphorus,
which burns at extremely high temperatures until its oxygen is cut off. Last week UN officials in Gaza were certain that their compound had been hit by white phosphorus shells.