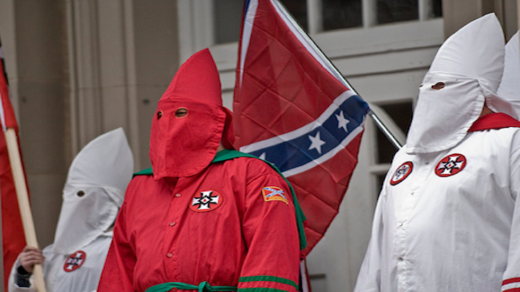 A Maryland Ku Klux Klan (KKK) group has been given permission to meet in a county government building to plan the impeachment of Barack Obama for being an "illegal president."
The
Cecil Whig
reported on Wednesday
that the Confederate White Knights had reserved the Elk Room in the Cecil County Government Building on Dec. 20.
"Barack Hussein Obama is an illegal president," Imperial Wizard Richard Preston told the paper. "He needs to be removed from office. We also want 'Obamacare' shut down. It's against citizen's rights."
"On top of that, we want the laws toughened on immigration," the KKK leader continued. "We're flooded with illegal immigrants and our people can't find jobs."
Illegal immigrants are not the problem. People can't find jobs because a gang of psychopaths are running the U.S. government and they give HUGE tax breaks to psychopathic corporations who outsource their
jobs overseas
where wages are much, much lower.
The group has created an
impeachment petition
which will be circulated at the meeting.
Maryland State Police 1st Sgt. Jimmy Russell said that the FBI had notified law enforcement officials about the meeting.
"They said to expect from 40 to 200 people," Russell explained. "They are not worried about [Preston]. They are more worried about the people that could show up."
Cecil County Director of Administration Al Wein insisted that the group had to be given permission to use the government building because of the First Amendment right to peaceable assembly.
"The First Amendment also prohibits local government from discriminating against an organization's right of free speech and peaceable assembly on public property, no matter how offensive the message may be," Wein's office said in a statement.
The group had previously planned a rally at Gettysburg, the site of one of the bloodiest battles of the U.S. Civil War, but their
plans were thwarted
earlier this year after Republicans shut down the U.S. government over the president's health care reform law.
"There's lots of good farmers and old people who understand if we don't straighten out, we're not going to be a country anymore," Imperial Wizard Preston remarked.
The group's website says that membership is open to anyone who is "100% heterosexual," of European heritage and born in the U.S. - but Jews, Muslims, Satanists and communists are not welcome.
However, Preston maintained that the Confederate White Knights was not a hate group.
"Just because we're a certain way in our group, doesn't mean we hate other groups," he said. "I think the people that do come will be surprised."
(h/t:
Washington Examiner
)
David Edwards has served as an editor at Raw Story since 2006. His work can also be found at Crooks & Liars, and he's also been published at The BRAD BLOG. He came to Raw Story after working as a network manager for the state of North Carolina and as as engineer developing enterprise resource planning software. Follow him on Twitter at @DavidEdwards.