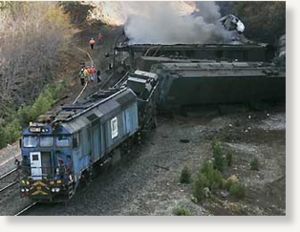 No one was injured Tuesday when 22 mostly empty CP Rail cars derailed near Carmangay.
Kevin Hrysak, CP Rail spokesman, said three of the cars contained building materials and 19 were empty. The 54-car train was en route to Calgary from the U.S.
The derailment occurred in a rural area at 8:06 a.m., about two miles south of Carmangay near Range Road 234 and Township Road 134, about a mile east of Highway 23.
Township 134 east near the derailment from Highway 23 and Range Road 234 south from Township 134 to Township 132 will be closed for three days as CP rail crews work to clean up the derailment. It has been determined that the train engineer and the conductor followed proper emergency procedures during the incident.
"We're co-operating with all agencies involved, but the cause is still under investigation and I haven't had any indication as to what the cause was," Hrysak said.