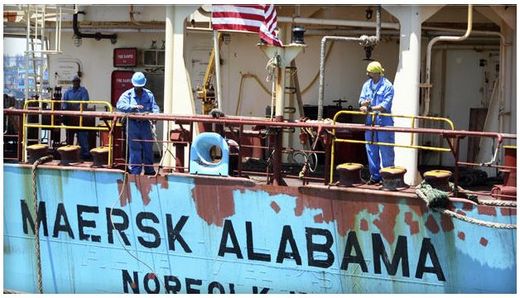 Police on the island nation of Seychelles say that two former U.S. Navy SEALs
found dead aboard the ship Maersk Alabama
died of respiratory failure and were suspected to have had heart attacks, possibly from drug use. The police said Monday that a syringe and traces of heroin were
found in their cabin
. Police said samples are being sent to Mauritius for analysis to establish if the men had consumed "a substance" that could have caused the health failures.
The ship the men worked on, the
Maersk Alabama
, was the focus of a 2009 hijacking dramatized in the movie "Captain Phillips."
Officials named the two men as Mark Daniel Kennedy, 43, and Jeffrey Keith Reynolds, 44. They worked for the Virginia Beach, Virginia-based maritime security firm The Trident Group.
The U.S. Coast Guard is also investigating the deaths.