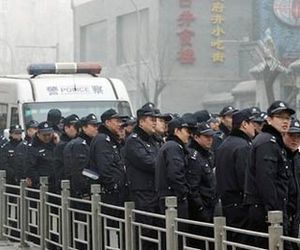 Beijing - Several top Chinese rights activists have disappeared into police custody as a web campaign urged angry citizens to mark the Middle East's "Jasmine Revolution" with protests, campaigners said Sunday.
Up to 15 leading Chinese rights lawyers and activists have disappeared since Saturday amid a nationwide police mobilisation, according to activists, while the government appeared to censor Internet postings calling for the demonstrations.
"We welcome... laid off workers and victims of forced evictions to participate in demonstrations, shout slogans and seek freedom, democracy and political reform to end 'one party rule'," one Internet posting said.
The postings, many of which appeared to have originated on overseas websites run by exiled Chinese political activists, called for protests in Beijing, Shanghai, Guangzhou and 10 other major Chinese cities.
Protesters were urged to shout slogans including "We want food to eat", "We want work", "We want housing", "We want justice", "Long live freedom", and "Long live democracy".