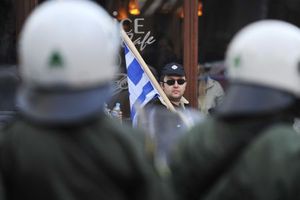 Athens police clash with demonstrators who were protesting against a planned fence on the Greek-Turkish border to stop illegal immigration.
Around 3,000 left-wing activists gathered in the city to demonstrate against xenophobia, when police clashed with rival groups for and against immigration in the Agios Panteleimon area, which has a large immigrant population.
Protesters carried banners reading, "Kick out the IMF (International Monetary Fund) and the EU (European Union), not migrants," and "No to racist attacks."
Extreme-right protesters, members of the Chrysi Avgi, or Golden Dawn also attended the protest.
Some left-wingers fled into a local church after throwing stones at the police. Officers reacted to the move by firing tear gas inside the church.