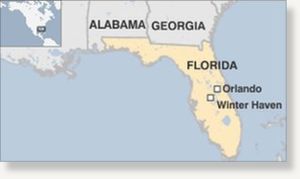 A man who was causing a disturbance outside Universal Studios in Florida died after being shocked with a Taser stun gun by off-duty police, US authorities have said.
Adam Spencer Johnson, 33, was said to have been acting irrationally when the five officers approached, police said.
The officers used a stun gun because Johnson was "violently" resisting arrest, said Sgt Barb Jones.
Mr Johnson became unresponsive on the ground and was later pronounced dead.
The off-duty officers responded to a call from a security guard at Universal Studios early on Friday morning about a man acting irrationally outside the Cinemax theatres in the city of Orlando.