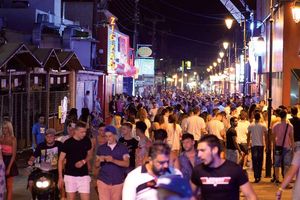 UK women are spending their holidays worrying about sex attacks amid claims that three have been raped in the past seven days.
With its countless bars flogging cheap booze and all-night party ­lifestyle, it's easy to see why Malia is a magnet for young Brits wanting to have fun in the sun.
But the mix of free-flowing alcohol and girls in skimpy clothing is also attracting a more sinister sort to the crowded resort - rapists.
And UK women are now spending their holidays worrying about sex attacks amid claims that three have been raped in the past seven days.
The hedonistic party town on the Greek island of Crete is still reeling from the brutal knife murder of British ­holidaymaker Tyrell Matthews-Burton during a brawl.
But on a night out this weekend, the Mirror discovered the fear of violence was being outweighed by that of rape - as it is in other popular seaside resorts across the Mediterranean.
Locals claim police are turning a blind eye to the attacks, leading to vigilante justice, and many victims do not even bother to report attacks or were too drunk to remember the details. Londoner Nikki Howarth, who manages Malia's Candy Club bar, is warning girls to stick together.
The 27-year-old said: "You always get fights in Malia but what is worrying me at the moment is the rapes. I'm telling girls to be careful because we have had three rapes in the last week.
"One British girl was set upon by three Israeli guys. She went home the next day. Most girls don't even report it." Lauren Traynor, 20, of Gainsborough, Lincs, who promotes a bar, added: "The threat of rape is always hanging over you here. You hear stories about it all the time.
"One of the girls this week was found being raped by a stranger in one of the nightclubs by two bouncers.
"But they know the cops won't do anything, so they took him to the ­mountains, beat him up and left him."
As well as the attacks mentioned by Nikki and Lauren, a third tourist is believed to have been raped as she walked home alone in the early hours.
A police spokesman said: "I can confirm one rape as it happened on my shift. But probably there are three or four maybe more. Lots of girls they don't report it."
Official statistics on rape in Crete are difficult to come by but according to the most recent records there were 25 reports of rapes on British women in 2011.
But those who live and work in Malia fear the true number is much higher.
The number of Britons sexually attacked or raped abroad rose 10% last year to 310 from 281 cases in 2011. Greece, Spain, and Turkey had the worst records.
Barmaid Lauren Walsh bravely waived her right to anonymity and told yesterday's Sunday Mirror how she was gang-raped on stage during a raucous foam party at a club in Magaluf, Majorca, when she was 17 - in front of hundreds of boozed-up revellers.
The 19-year-old said a group of British men attacked her, but the loud music drowned out her desperate screams for help. Lauren added: "I heard the DJ make some joke about girls being welcome up on stage but only if they took their clothes off.
"As I was standing near the stage steps looking for my friends, five or six guys dragged me up and towards the back.
"They started pawing at me and pulling at my clothes. I heard them talking and laughing, egging each other on." In Turkey's notorious Marmaris resort there have been three sex assaults on Brits in the past few weeks.
A tourist was raped during a massage at a hotel spa, a woman managed to fight off a knifeman who broke into her hotel room and a third was attacked by a taxi driver.
On Saturday night, nursing student Martha Wilson, 17, of Huddersfield, West Yorks, was among the 20,000 young people - mainly Brits - partying along the mile-long strip of more than 80 bars and clubs in Malia. Many are abroad, and away from their parents, for the first time.
Despite always being with three friends, Martha said the group felt intimidated.
She added: "It's really scary. We are just trying to have a good time with the girls but there are so many creepy people out here. I'm not surprised girls have been raped. Girls drink too much and become vulnerable. Men are always trying to feel you up in clubs and put your hand down your top and things like that.
"But we are sticking together for safety. It's the best thing you can do."
After a night out on the streets of Malia it is difficult to avoid the conclusion the resort is all but lawless. During our eight-hour odyssey we saw just two policemen and they spent most of their time having coffee in a secluded bar.
When we did speak to one officer in the early hours he just shrugged and said: "We are doing all we can, what more can we do?" The Chief of Police refused to give us an interview.
But walking up and down the neon-lit strip, it is hard not to have sympathy with the hard-pressed police. The place stinks of stale urine and drunk tourists think nothing of relieving themselves in the street in full view of others.
There's vomit splashed on litter-strewn pavements, and periodically you spot girls dutifully holding a friend's hair back as they throw up in the gutter.
Everywhere British teens wearing as little as possible, of both sexes, are desperate to drink more and sleep with more people than their friends.
Most of the revellers are aged between 16 and 20, but can be as young as 14.
A group of girls wearing little more then skimpy crop-tops with I Love Malia on the front and miniscule hot pants are being chased by a gang of muscle-bound males in vest tops and ripped T-shirts.
This collective madness is fuelled by gallons of cheap booze with many of the bars and nightclubs offering six-for-one deals on shots such as tequila and vodka for as little as £3. The most famous drink is the Headf*****, served in a large fishbowl and made up of Baileys, chilli powder, tequila, absinthe, ouzo, vodka, cider and gin. It can cost less than £10.
Many of the clubs are free to get into and are soon bursting at the seams.
Down a side alley groups of youths organise a fist fight. As their mates egg them on, two teenagers go toe-to-toe in the darkness for a few seconds - then it's over as quickly as it began.
A typical night begins around 11pm before exploding at about 2am when the cheap drink deals do their worst.
The human cost is obvious at the Central Malia Medical centre where, on average, 50 Britons a night turn up. A weary medic at the centre admitted the place was like a war zone at times.
He said: "Some people say this must be the worst job in ­medicine. That may be true but soldiers have to fight in Afghanistan and we have to work in Malia.
"You just have to do the job that is in front of you."
Surgeon Nikos Katsaros added: "A lot are injured by alcohol games put on by the bars. A girl was brought in who had burned her entire crotch leapfrogging over candles."
And as many as 100 girls a week arrive asking for the morning after pill. One pharmacist said: "It's like we're giving out candy. They should have a ­prescription but the truth is we don't bother because it takes too long. It's easier not to ask questions."
The heady mix of cheap booze, raging hormones and lax policing has meant Malia, where a week away costs around £300, has taken over from Faliraki in Rhodes, Ayia Napa in Cyprus, Magaluf and Benidorm in Spain, as the Med's most ­notorious resort for debauchery.
The Foreign Office said it had not received any reports of Brits being raped in Malia. A spokesman insisted if they do they deal with the claims very quickly to ensure holidaymakers get assistance as soon as possible.
He added: "Our advice on safety ­overseas is that we would encourage people to take the same precautions they would at home to avoid putting ­themselves at risk. For example keeping an eye on friends, never accepting car rides from strangers, asking hotels to recommend a taxi firm and never leaving food or drinks ­unattended, so they can't be spiked."
This week Channel 4 suspended filming of a documentary about young Brits in the Corfu resort of Kavos, after it was alleged they were told to target cheating couples and women forced to take the morning after pill.