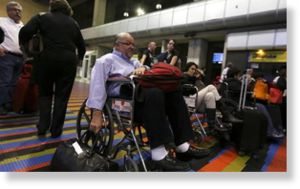 Minister says French authorities passed on intelligence that terrorist group was planning to put bomb on flight
Venezuela has grounded an Air France flight after being tipped off by French authorities that a terrorist group might be planning to detonate an explosive device in midair.
The Venezuelan interior minister, Miguel Rodríguez Torres, told state TV late on Saturday that more than 60 technicians, bomb experts and a canine team would perform an exhaustive search of the aircraft before the flight could be reprogrammed. Five hours after the flight's 7.25pm scheduled departure it was still unclear what the results of that search were or when they would be announced.