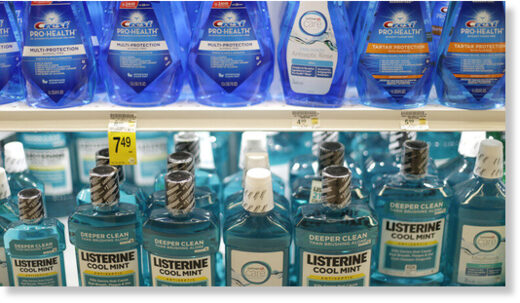 Some common mouthwash brands can reduce viral loads in saliva, promising a new way to curb Covid-19 spread, UK scientists say. The hopeful message was met with a wave of mockery online from those apparently feeling lockdown-weary.
A preprinted Cardiff University
paper
published last week details researchers' findings on how well various products work to destroy viral lipid membranes. The idea is that an infected person could become at least temporarily less of a risk to others by rinsing and gargling to reduce the viral load in their saliva. Tiny droplets produced during coughing or even simply breathing is how scientists believe Covid-19 mainly proliferates.
Pushing down infection rates is crucial to stop the pandemic, and Cardiff University researchers
believe
that the use of mouthwash is an under-explored way of doing this. The research was done in a lab rather than on actual people. So it remains unclear if, say, Listerine Advanced, which proved to be effective in vitro, could undercut the virus, even if everybody uses it.