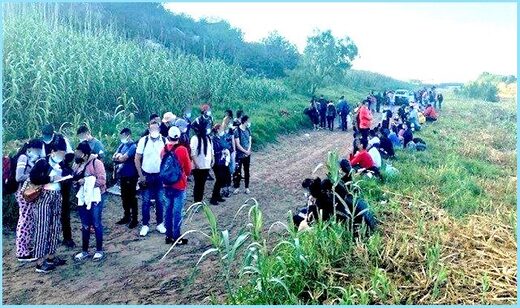 Texas Governor Greg Abbott told Breitbart Texas the State will immediately begin building border barriers in areas where migrants can easily cross the Rio Grande border with Mexico.
The barriers will, in part, enable state law enforcement to arrest migrants for violations of state law.
Governor Abbott told Breitbart Texas shortly before Thursday's border summit in Del Rio, Texas:
"The influx across the border is out of control, and the Biden Administration has shown that is not going to step up and do its job. And amidst reports of even more people coming in across the border, we know we have to step up and do more."
Abbott said
Texas will immediately begin construction of border barriers in areas like Del Rio
where migrants can easily cross unsecured sections of the border with Mexico. The governor picked Del Rio for the Border Summit due to the massive increases in illegal border crossings in this region.
Del Rio Sector agents apprehended 27,890 migrants — a 1,118 percent increase over the May 2020 report of 2,289,
Breitbart Texas reported on
Thursday
. He said they are hearing from local residents and elected and law enforcement officials that they are seeing things they have never seen before:
"The reason why we are here (Del Rio) is because of the massive increase concentrated in the Rio Grande Valley. Now, you know we're upstream from the Rio Grande Valley in the Del Rio Sector and the Del Rio sector is suffering from some of the largest increases.

"They're seeing a lot of very bad dangerous people come across the border. People that they are afraid of encountering, people who are causing damage to their fences, their livestock, their crops, their neighborhoods, and their homes. Bad things are happening around here, and so they need help from the state to help them address this exploding crisis."