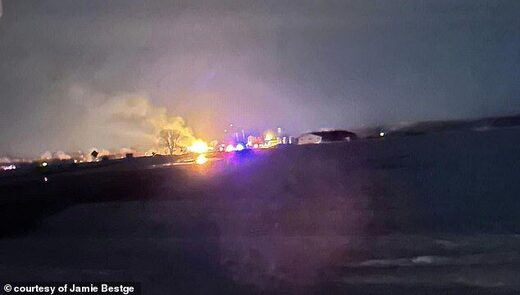 A city in Minnesota has been left looking like a warzone as cars from a train derailed and burst into flames in the early hours.
The site of the incident in Raymond can be seen with
a huge spill, hours after authorities tackled the growing blaze
.
Hundreds of residents were evacuated
after the 40-car freight train carrying hazardous substances careered off the tracks at around 1am on Thursday.
The Burlington Northern Santa Fe train was
carrying ethanol and corn syrup on around 14 of the carriages, which is what
sparked the fire.
Secretary of Transportation Pete Buttigieg confirmed he was watching the situation 'closely' and spoke out about the incident after being accused of not addressing
a similar incident
in Ohio last month.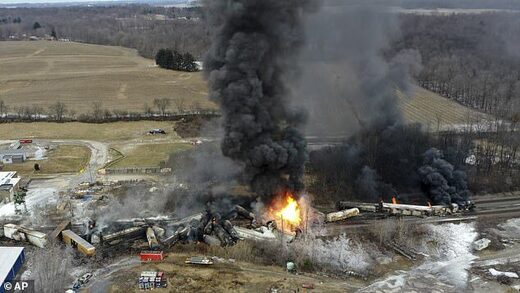 Ohio is suing the Norfolk Southern railroad company over the devastating freight derailment which exposed the village of
East Palestine
to massive levels of toxic material.
Residents were evacuated after the 40-car freight train carrying hazardous substances careered off the tracks at around 1am on Thursday morning
Governor Tim Waltz travelled to the area and confirmed that residents would be allowed to return to their homes later on today after it was deemed safe by officials.
There have been no reported injuries in Raymond confirmed yet, and authorities have set up a one-mile perimeter for safety around the site.
It came hours after another Burlington Northern Santa Fe train came off the tracks on Wednesday
morning near a grain elevator in Hettinger.
There were no hazardous materials on board, as the cars were transporting grain, and there were no injuries.
However
one vehicle struck and damaged a building at the elevator site
, but there was no other property damage - unlike the blaze which broke out in Minnesota.
Locals in Raymond have been warned not to travel to the site as officials continue to battle the blaze.
Secretary Buttigieg told CNN: 'I have been in touch with the Governor. We have personnel on the ground.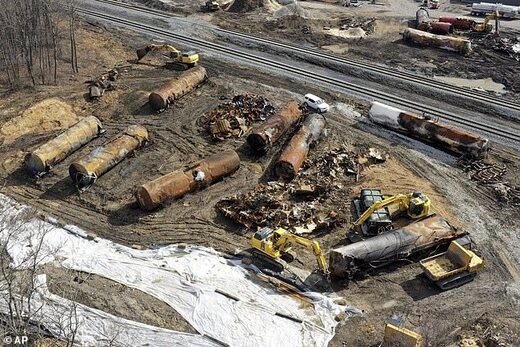 'The reason that we are pushing so hard on railroad safety is to make sure there are fewer of these incidents.
'The reason that there are fewer than there used to be in the past is regulation and enforcement.
'But there's still far too many, and
this happens more often than I think most Americans realize
this is exactly why we have called on congress to create tougher fines and penalties and more authorities.'
Nearby Highway 23 has been shut off in both directions between Kandiyohi County Road 1 to Chippewa County Road 1.
Rep Michelle Fischbach, who oversees the area said in a statement: 'Thanks to the quick work by first responders assisting the Raymond community, I am told the fire is under control and there have been no injuries.
'My team is on the ground with local officials and will work to assist in every way we can.'
The Transport secretary was slammed for failing to go to the toxic site in Ohio after investigators left, 18 days after the incident happened.
Buttigieg downplayed the need for an administration official to come survey the damage and visit the community disrupted by the toxic derailment.
Since the derailment, residents have complained about headaches and irritated eyes and finding their cars and lawns covered in soot.
The hazardous chemicals that spilled from the train, including vinyl chloride from five rail cars, killed thousands of fish, and
residents have talked about finding dying or sick pets and wildlife
.
BNSF, one of the largest freight railroad networks in the country, said
they were investigating the cause of the incident in Minnesota
that involved one of their trains.
A spokesman for the company said: 'BNSF field personnel are responding to assess the derailment site and will be working closely with local first responders.'
Nearby Highway 23 has been shut off in both directions between Kandiyohi County Road 1 to Chippewa County Road 1
'The main track is blocked and an estimated time for reopening the line is not available.'
Raymond Fire Department announced on Facebook following the incident: 'The town is being evacuated for precautionary measures. Residents may go to Prinsburg School for shelter.'
In a separate incident, another train detailed and spilled hazardous materials in North Dakota on Sunday night.
Authorities confirmed that there was no threat to public safety after the Canadian Pacific train came off the tracks.
Four cars filled with liquid asphalt and two railcars filled with ethylene glycol spilled some of those chemicals.
Norfolk Southern is facing a special probe by the National Transportation Safety Board (NTSB) following two high-profile derailments in the span of a month.
Following the East Palestine crash, Louis Shuster, 44, a train conductor, died after the train he was manning collided with a dump truck in Cleveland.
How toxic is ethanol?

Ethanol is categorized as a toxic substance, as it can be harmful to those who ingest it, breathe it in or come into contact with it on the skin.

Prolonged or repeated exposure can cause drying and cracking of the skin with peeling, redness and itching.

It is also highly flammable and is a dangerous fire hazard, and could be easily ignited by heat, sparks or flames.

Given the volatile nature of ethanol and ethanol blends, inhalation exposures are the most likely for both responders and nearby workers or residents.

Skin contact is possible, but unlikely, since responders would be wearing appropriate protective clothing.

Ingestion exposure is also unlikely, although if the spill reaches surface water, ethanol will dissolve.

Flammability is the greatest hazard for ethanol and it has a high range of flammability, 3.3 to 19% or 33,000 to 190,000 ppm by volume.

Pure ethanol and biodiesel are nontoxic and biodegradable, and if spilled, they break down into harmless substances. However, fuel ethanol contains denaturants to make fuel ethanol undrinkable.

Similar to petroleum fuels, biofuels are flammable (especially ethanol) and must be transported carefully.

Once it is alight it may cause explosions, which are harder to contain.