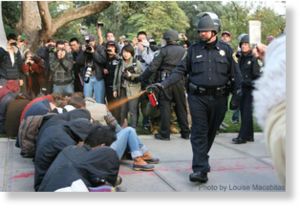 The University of California, Davis police officers who doused students and alumni with pepper spray during a campus protest last November won't face criminal charges, prosecutors said Wednesday.
The chemical crackdown prompted widespread condemnation, campus protests and calls for the resignation of Chancellor Linda Katehi after videos shot by witnesses were widely played online. Images of an officer casually spraying orange pepper-spray in the faces of nonviolent protesters became a rallying point for the Occupy Wall Street movement.
But the Yolo County District Attorney's office said in a statement that there was insufficient evidence to prove the use of force was illegal.
A task force appointed by the university concluded in April that the Nov. 18 pepper-spraying was "objectively unreasonable" and could have been prevented.