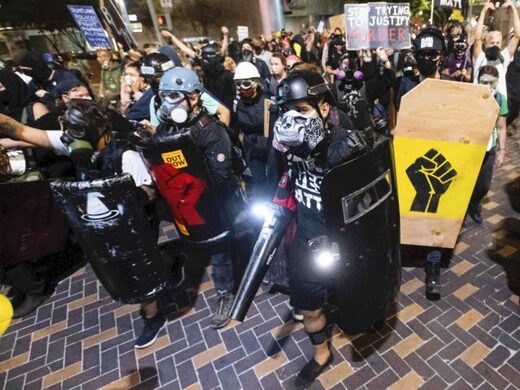 Violence continued in Portland, Oregon, this weekend even after federal law enforcement pulled back to allow state and local police to take over. Yet the media, including the
Wall Street Journal
, described the Portland violence as "mostly peaceful."
On Thursday night, the first night after the Department of Homeland Security struck a deal with the State of Oregon, the violent demonstrations continued, with protesters setting various fires, including one in which a
pig's head
was set alight atop an American flag. On Friday night, the fires in the streets continue, with radical leftists
burning Bibles
on a U.S. flag.
On Saturday night, riots continued, with rioters targeting the Portland Police Department with some of the same weapons they had used against federal officers defending the Mark O. Hatfield U.S. Courthouse, including lasers aimed at officers: