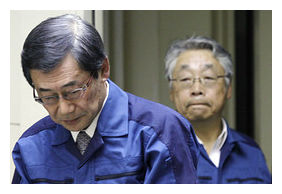 Tokyo - In normal times, Masataka Shimizu lives in The Tower, a luxury high rise in the same upscale Tokyo district as the U.S. Embassy. But he hasn't been there for more than two weeks, according to a uniformed doorman.
The Japanese public hasn't seen much of him recently either. Shimizu, the president of Tokyo Electric Power Co., or Tepco, the company that owns a haywire nuclear power plant just 150 miles from the capital, is the most invisible - and also most reviled - chief executive in Japan.
Amid rumors that Shimizu had fled the country, checked into hospital or even committed suicide, company officials said Monday that their boss suffered an unspecified "small illness" due to overwork after a 9.0-magnitude earthquake sent a tsunami crashing onto his company's Fukushima-Daiichi nuclear power station.