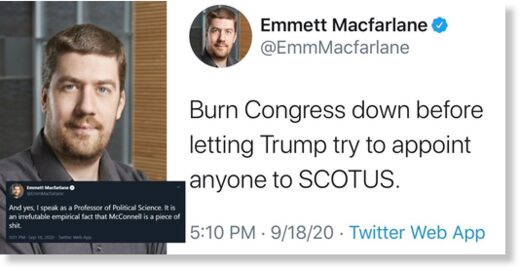 A constitutional law professor in Canada called for burning the U.S. Congress to the ground in the wake of Supreme Court Justice Ruth Bader Ginsburg's death.
"Burn Congress down before letting Trump try to appoint anyone to SCOTUS," Emmett Macfarlane, a Canadian professor of political science at the University of Waterloo, tweeted within an hour of Ginsburg's passing.
Macfarlane wrote a non-apology the following day "to reinforce what I think was the obvious sentiment" and "regret the firestorm," while he refuses to "succumb to a fascist cancel campaign."

Comment: Translation, "while he refuses to admit he's an over-emotional partisan hack with no objectivity or ability to reason."


"Last night in the context of the RBG news, I tweeted intemperately about rather seeing Congress burned down than seeing Trump appoint another SCOTUS judge," the public policy researcher wrote.
"I don't think any reasonable person would see a 'burn it all down' tweet as a call for violence. To be clear: it wasn't."
Then Macfarlane accused "far-right personalities" of "agitating" the public to "inundate my employer calling for my head."