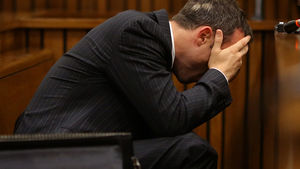 Pathologist says bullet to girlfriend's head was probably fatal, with ammunition designed to mushroom on contact
It was cold, clinical, scientific testimony that finally robbed
Oscar Pistorius
of his composure.
A pathologist's report from the witness stand of the austere courtroom, detailing the devastating impact of three hollow tipped bullets on the body of his girlfriend Reeva Steenkamp, was punctuated by the gutteral sounds of the sporting celebrity
gagging and vomiting repeatedly into a bucket
.
While Pistorius has mostly retained his self-possession as a succession of neighbours and an ex-girlfriend gave evidence against him, it was the dry, technical language of professor Gert Saayman that hit him hardest. He was bent double in the dock, hands on his ears as if trying to block out the words, his body in visceral pain and violently sick.
The scene unfolded on the
sixth day
of the "blockbuster trial" in Pretoria where the testimony was deemed so graphic that judge Thokozile Masipa banned live coverage of it on radio, television, Twitter and blogs.