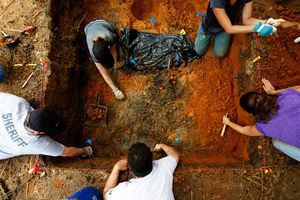 This week, the remains of fifty-five bodies were found in unmarked graves on the grounds of the former Florida School for Boys, in the panhandle town of Marianna. The reformatory school, which was operated by the state of Florida, and which closed in 2011, was notorious for its mistreatment of its students. In 1968, Florida's governor at the time, Claude Kirk, said of the school, "Somebody should have blown the whistle a long time ago." There have long been allegations of beatings, torture, and sexual abuse there; it now appears that some students were killed. The total number of bodies buried at the school has not been determined, but the forensic anthropologist Erin Kimmerle, the leader of the exhumation effort, which has been under way since September 2013, has said that
it may exceed a hundred.
Some of the children died natural deaths, but the sheer number of bodies suggests that there may have been many killings, a possibility buttressed by eyewitness accounts. Yet Florida's prosecutors have yet to file a single criminal charge, or even open a criminal investigation. To pass over crimes of this magnitude without investigation seems the very definition of injustice.
There is no statute of limitations for murder and other crimes causing death, which means that there is no legal bar to bringing charges. In Florida, all capital cases have long had no statute of limitations, and when these crimes were allegedly committed forcible rape was punishable by death. But there are challenges to prosecuting old crimes: given how much time has passed, it may be difficult to determine who was responsible for the killings, and many of the suspects, meanwhile, have already died, including the school's longtime superintendent, Lenox Williams, who died in 2010. Some are still alive, including Troy Tidwell, an instructor at the school, who was accused of abuse in
a class-action lawsuit
filed by more than two hundred former students in 2009.
(Tidwell denies the accusations, and the case was dismissed after a judge ruled that the statute of limitations on the charges had run out.)
In spite of these difficulties, a prosecutor still has many options in a case like this one. Scenes of mass death, like those caused by fires at night clubs in which the exits are blocked, are often prosecuted as cases of involuntary manslaughter. If the wantonly negligent operation of the school led to many deaths, the Florida School of Boys was like a deadly fire in slow motion. In addition, some of the school's surviving employees and managers could potentially be prosecuted for felony murder - Florida law
includes special provisions
for deaths that occur during the abuse of minors - or, alternatively, members of the staff could be prosecuted as members of a conspiracy. There may also be fresher claims of obstruction of justice. A law student could probably find more options, let alone a dedicated prosecutor.