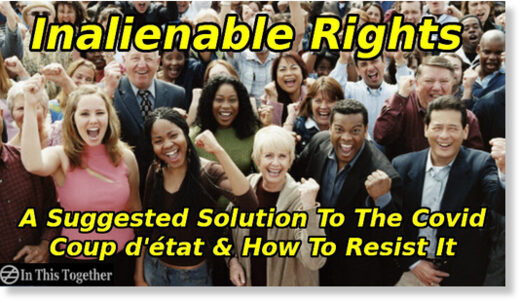 Inalienable rights
, founded upon the principles of
Natural Law
and
natural justice
, offer us a potential solution to the COVID coup d'état, or
pseudopandemic
as I call it. Exercising our
inalienable rights
, in observance of
Natural Law
, and collectively acting in peace to undermine the objectives of the conspirators, is the best way to resist it.
The objective of the global public - private - partnership of stakeholder capitalists, and their government agents, is to establish centralised global control. If our intention is to resist the imposition of this new world order the solution will not be found in any other form of centralised control. We must construct a society based upon decentralised freedom.
I have challenged the official
COVID narrative
. However, as many have pointed out to me, quite forcefully on occasion, it is easy to criticise. So here I offer a suggested remedy.
This is my opinion, I am sure there are many alternative ways to peaceably resist and we should use any and all. However, as yet, I haven't heard any political theory that makes more sense to me than the one I am about to suggest. I do not claim any great insight or knowledge. I claim nothing other than my
inalienable right
to speak freely.
Freedom
is the unrestricted freedom to exercise our
inalienable rights
. It is the freedom to do
all that is right
whenever or wherever we choose. No one on this Earth has the
authority
to deny, remove or redefine any of our
inalienable rights
. They are immutable and ours from birth.