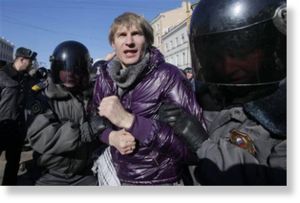 Russia - Police in St. Petersburg have detained more than 10 protesters who tried to march down the Russian city's main avenue following an opposition rally.
Several hundred people took part in Sunday's rally in St. Petersburg to express their opposition to Prime Minister Vladimir Putin, who in May will begin a new six-year term as president.
The demonstrators chanted "Putin is a thief" and "Russia without Putin," two slogans heard at most opposition protests in recent months.
In Moscow, police said they detained about 30 opposition activists near Red Square to prevent them from protesting.
Ekho Moskvy radio cited the opposition Solidarity movement as saying its activists were simply out for a stroll. They were wearing the white ribbons that have become a symbol of the peaceful protest movement.