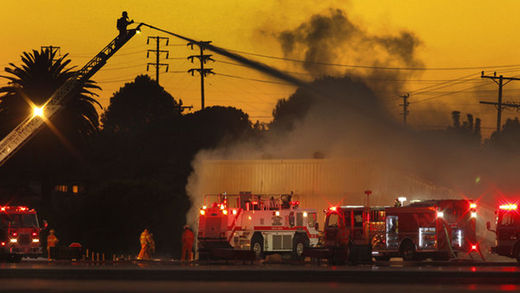 Investigators awaited the arrival of a crane Monday at a Southern California airport where a private jet crashed into a hangar after landing, but they did not expect to find any survivors on the flight from Idaho, officials said.
"This was an unsurvivable crash," Santa Monica Fire Department Capt. John Nevandro said Sunday night at a media briefing at Santa Monica Municipal Airport.
Because the hangar collapsed in flames around it and a crane would be required before the plane could be reached, investigators had been unable to determine how many people were aboard the twin-engine Cessna Citation designed to hold eight passengers and two crew members, officials said.
It had taken off from Hailey, Idaho, and landed in Santa Monica when it went off the right side of the runway at about 6:20 p.m. on Sunday and struck the hangar, Federal Aviation Administration spokesman Ian Gregor said.
The blaze did minor damage to two other buildings and destroyed the hangar.
"It was a total loss," Fire Department spokeswoman Bridgett Lewis said.
News helicopter footage showed all but the tail of the plane trapped under a collapsed section of the small building.
Investigators could not immediately say whether anyone was inside the hangar.
A plume of smoke rising above the airport could be seen in the twilight sky over the populous neighborhoods surrounding the airport in the hours after the crash.
After hearing a loud boom, several neighbors ran toward the airport and saw the fire.
"It was very, very terrifying, it was sad to see just so much smoke, and the building collapse and the loud boom, you just put it all together and it's scary," witness Alyssa Lang told KABC-TV.
Witness Charles Thomson told the TV station the plane appeared to make a "perfectly normal landing" before veering off course.
The jet, a Cessna 525A manufactured in 2003, is registered to a Malibu, Calif., address and its corporate owner,
Creative Real Estate Exchange
, is based in Birmingham, Ala., and Atlanta, according to FAA public records.
Phone messages left after hours at the real estate company's two offices were not immediately returned.
The National Transportation Safety Board would take over the investigation as is routine in such crashes.
Santa Monica Airport, located in the coastal tourist destination known for its trendy bars, restaurants and wooden-pier carnival, is home to many private jets, many of them used by wealthy Southern Californians from the entertainment industry.
The airport in Hailey serves Idaho's Sun Valley resort area, which is a frequent destination for many celebrities, and the rich and powerful alike.