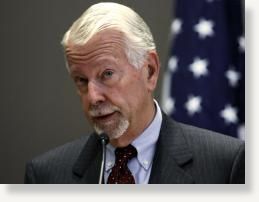 Now that retired U.S. District judge Vaughn Walker has revealed he is in a committed relationship with a man, do grounds exist to cancel his ruling that California's ban on same-sex marriage is unconstitutional?
Supporters of the ban, known as Proposition 8, say yes and have filed a motion contending Walker should not have heard the case because he might want to marry someday.
Law professors who specialize in legal ethics, such as the University of Minnesota's Richard Painter, say no and compare targeting Walker's personal relations to targeting a judge's religion or race.
The new claim filed by Washington lawyer Charles Cooper on behalf of the Proposition 8 backers is scheduled to be heard June 13. It marks the latest move in the protracted battle over the proposition adopted by California voters in 2008 and a new chapter in the debate over when judges should sit out disputes. Challenges to judicial ethics are hardly new, yet a spate of high-stakes appeals, including over new federal health-care legislation, have spawned fresh questions about judges' impartiality.
Walker, a 1990 appointee of Republican President George H.W. Bush, told reporters in April that he has been in a relationship with another man for more than 10 years. Walker retired from the bench earlier this year. In February 2010, during the Proposition 8 trial, the
San Francisco Chronicle
wrote that Walker is gay and "has never taken pains to disguise - or advertise - his orientation."