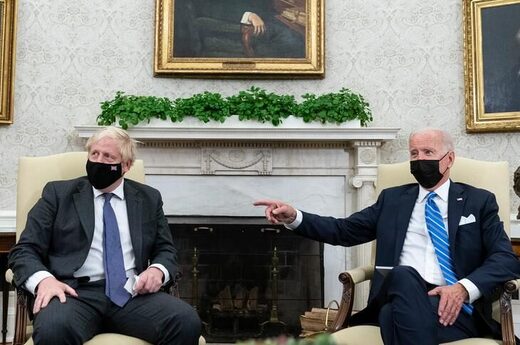 Press secretary Jen Psaki tried to explain away President Biden's
refusal to take questions from reporters
during his Tuesday sitdown with British Prime Minister Boris Johnson by claiming that the UK leader had blindsided White House aides by calling on two British reporters.
"I think our relationship with the United Kingdom and with Prime Minister Johnson is so strong and abiding, we will be able to move forward beyond this," Psaki said Wednesday, "but
he [Johnson] called on individuals from his press corps without alerting us to that intention in advance."
Comment:
Biden has deteriorated to the point where, in their failed attempts to cover up his addled state, the White House needs to manage every moment he's in front of the cameras:
Something is wrong with the President
After Johnson and Biden answered queries
from Harry Cole of the
Sun
newspaper and Beth Rigby of Sky News,
White House press aides known as "wranglers" began shouting and herding reporters outside the Oval Office, where the meeting was taking place.
"That's absurd," one reporter was heard complaining as he headed outside. "Two British reporters get questions and we don't get anything."