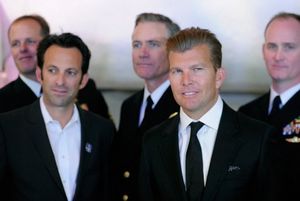 The secretive Navy SEALs are coming out of the shadows for a new Hollywood film, with elite commandos cast in starring roles in a radical departure for America's special forces.
In
Act of Valor
, the select troops who call themselves "the quiet professionals" take a turn as leading men on the big screen, reciting lines from a script as they race to prevent terrorists from carrying out an attack on the United States.
Filming began in 2007, before the Navy's Sea, Air and Land Teams were catapulted to fame for their daring raid last May that killed Al-Qaeda mastermind Osama bin Laden.
US defense officials did not find out about the movie until after the fact, causing consternation at the Pentagon, which has an office that vets scripts and negotiates cooperation deals with Hollywood producers.
Although troops have appeared in movies before, such as
Black Hawk Down
, this film ventures into uncharted territory, possibly jeopardizing the anonymity that the special forces have sought to safeguard.