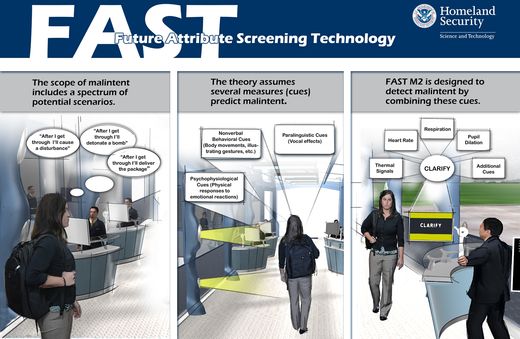 A cabal of
psychopaths
that rules the former USA has developed a new tool to detect and neutralize non-psychopaths who threaten their power. That, at least, is the implication of a recently-uncovered Department of Homeland Security document revealing the existence of Future Attribute Screening Technology (FAST) - a "pre-crime" detection unit not unlike the one dystopian novelist Philip K. Dick dreamed up for
Minority Report,
which inspired the Tom Cruise film. And by way of homage to another great dystopian writer, George Orwell, FAST will red-flag individuals harboring what the ruling psychopaths call "malintent."
As
DailyTech.com reports:
This new "pre-crime" detection facility was discovered via a June 2010 DHS document that was acquired by the Electronic Privacy Information Center (EPIC). The document states that information is currently collected and retained on "members of the public" as part of the pre-crime system, which is called Future Attribute Screening Technology (FAST).

FAST is made up of algorithms that use factors including gender, age, ethnicity, heart rate, body movements, occupation, voice pitch changes, body heat fluctuations and breathing patterns to identify clues as to whether the individual(s) will commit a crime in the future.

The idea behind FAST is to prevent crimes from happening before individuals even have a chance to commit them based on the factors listed above. It is able to do this through the use of sensors that collect audio recordings, video images and psychophysiological measurements.

"The department's Science and Technology Directorate has conducted preliminary research in operational settings to determine the feasibility of using non-invasive physiological and behavioral sensor technology and observational techniques to detect signs of stress, which are often associated with intent to do harm," said Peter Boogaard, the deputy press secretary for the Department of Homeland Security.