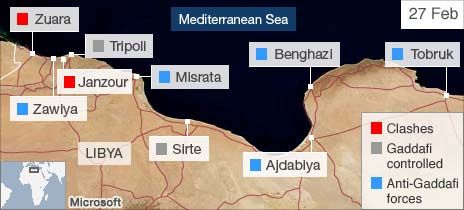 Forces fighting to oust the Libyan leader Col Muammar Gaddafi have seized the city of Zawiya, 50km (30 miles) west of the capital, Tripoli.
The Libyan government took journalists to Zawiya on Sunday morning.
But instead of a show of government force, reporters saw opposition fighters manning the barricades in the city centre and flying their flag.
The UN Security Council voted unanimously on Saturday to impose sanctions on Col Gaddafi's regime.
Eastern Libya has fallen to the uprising, which began on 16 February in the wake of revolutions which toppled the long-serving leaders of neighbouring Tunisia and Egypt.
However the Libyan capital Tripoli remains under the control of Col Gaddafi, who is facing the biggest challenge to his 41-year rule.
At least 1,000 people are believed to have been killed in nearly two weeks of violence.
The UN refugee agency (UNHCR) says nearly 100,000 migrants have fled to neighbouring Tunisia and Egypt in the past week.