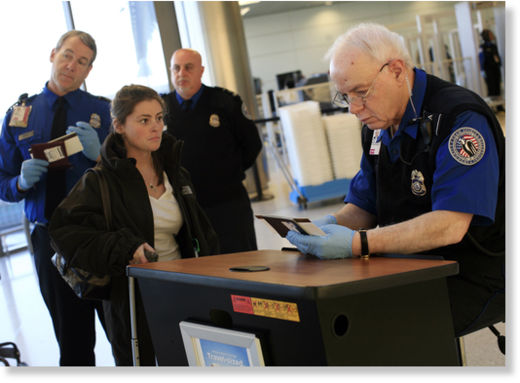 So,
you're sick and tired
of being hassled by Transportation "Security" Administration (TSA) thugs, who
fondle
your "
junk
" and force
95-year-old grandmothers
to take off their adult diapers?
Well, that's tough - because it's about to get worse.
Since 2006, the TSA has been developing a $1 billion program called "
Screening Passengers by Observation Techniques
" [.pdf] (SPOT) whose proponents - notably, one Rafi Ron, an Israeli airline security "expert" - claim it enables screeners to detect dangerous passengers via nonverbal signals, including facial expressions. The program is undergoing a
test run
, starting today [Tuesday] at Boston's Logan airport. So before you wrinkle your nose at that
Epsilon-Minus Semi Moron
rifling through your suitcase, please be aware that the "
micro-expressions
" you exhibit can and will be held against you.
As the TSA gropers assaulted Americans at airports, the outraged response of the public was taken up
by some conservatives
, who promptly declared that we need to organize our air safety campaign along Israeli lines - and now they've gotten their wish. Which just goes to underscore the old aphorism about being careful what you wish for.