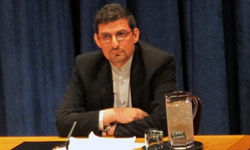 A senior Iranian diplomat blasted Washington for raising baseless allegations against Tehran, and said the US which supports terrorist groups with financial, political and arms aids cannot accuse others of advocating terrorism.
"
The US is not in a position to accuse other countries of supporting terrorism
," Spokesman of Iran's mission at the UN in New York said, reacting to the US state department's 2012 annual report on terrorism.
He further reiterated that the US support for terrorist groups in the region, Israel's state-sponsored terrorism and the terrorist Mojahedin-e Khalq Organization (MKO, also known as the MEK, PMOI and NCRI) shows Washington's double standards in confronting the phenomenon of terrorism.
Mir-Yousefi underlined that the Islamic Republic of Iran which is a victim of state-sponsored terrorism has fought terrorist groups through different possible means for decades.