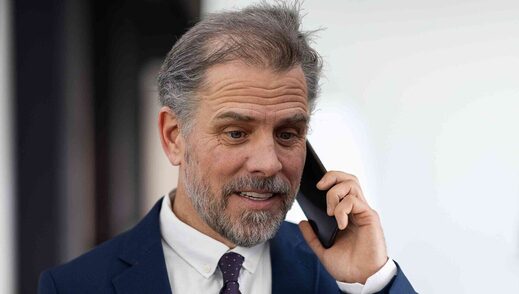 President Biden paid a visit to Ukraine to reaffirm America's unwavering commitment to the country's democracy, sovereignty, and military-industrial complex while also picking up a few things Hunter asked about, including his paycheck.
The Babylon Bee has acquired a recording of the exchange between Biden and his adolescent son, Hunter, just before the trip:
HUNTER: Yo, Pops, how's it hangin'?

BIG GUY: Eh? What now? Which kid are you?

HUNTER: Hilarious, Dad. Hey, can you pick up my paycheck while you're in Kyiv? I'm swamped this week. *SNORT* Big art show coming up. *SNORT*

BIG GUY: Sure thing, Herman.

HUNTER: Thanks, Dad, you're the best. Also, I have a package waiting for me there. Could you pick that up too?

BIG GUY: Squirrel wizard.

HUNTER: K, cool. Brown paper package. Guy named Borysko the Blade has it.

BIG GUY: Baboonsky the Bard. Got it.

HUNTER: Just go to the address written in your notebook —

BIG GUY: Yum

HUNTER: Stop eating it; you need that address.

BIG GUY: Papa hungry. NURSE!

HUNTER: One more thing I need you to pick up. A busload of, um, ladies of the night.

BIG GUY: Janitorial staff?

HUNTER: No, bawdy tarts.

BIG GUY: Fruit snacks?

HUNTER: Forbidden women. Brazen hussies.

BIG GUY: Oh, town girls? Gotcha. Atta boy, son. Smartest guy I know.

At publishing time, Air Force One's return flight had been delayed while President Biden waited for Zelensky to sign his son's paycheck.