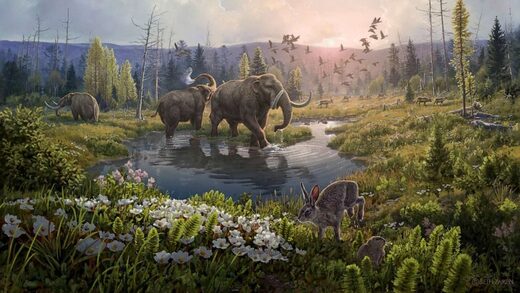 Scientists discovered the oldest known DNA and used it to reveal what life was like 2 million years ago in the northern tip of Greenland. Today, it's a barren Arctic desert, but
back then it was a lush landscape of trees and vegetation with an array of animals, even the now extinct mastodon.
"The study opens the door into a past that has basically been lost," said lead author Kurt Kjær, a geologist and glacier expert at the University of Copenhagen.
With animal fossils hard to come by, the researchers extracted environmental DNA, also known as eDNA, from soil samples. This is the genetic material that organisms shed into their surroundings — for example, through hair, waste, spit or decomposing carcasses.
Studying really old DNA can be a challenge because the genetic material breaks down over time, leaving scientists with only tiny fragments.
But with the latest technology, researchers were able to get genetic information out of the small, damaged bits of DNA, explained senior author Eske Willerslev, a geneticist at the University of Cambridge. In their study, published Wednesday in the journal Nature, they compared the DNA to that of different species, looking for matches.