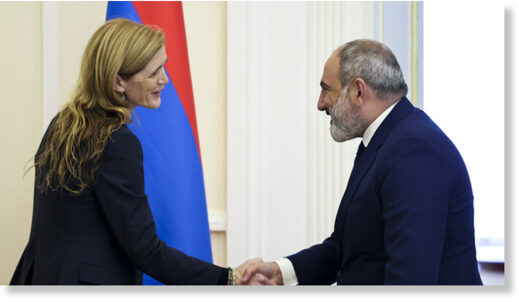 Within days of the ceasefire in Nagorno-Karabakh, US Agency for International Development (USAID) Administrator Samantha Power touched down in Yerevan with promises of "support for Armenia's sovereignty." RT explores how USAID is attempting to reshape the country with the aid of its pro-Western prime minister.
How did we get here?
In the face of a military onslaught by Azerbaijani forces, the ethnic Armenian leadership in the disputed province of Nagorno-Karabakh agreed last week to lay down arms and allow the territory to be subsumed into Azerbaijan.
Although Armenian Prime Minister Nikol Pashinyan accused Russian peacekeepers of failing to prevent the Azerbaijani attack, he had already recognized the territory as Azerbaijani, and sought to
distance himself
from his traditional allies in Moscow and ingratiate himself with the US by holding military exercises with American forces and sending aid money to Ukraine.
What is USAID doing?
Power and US State Department Acting Assistant Secretary for Europe and Eurasian Affairs Yuri Kim visited Yerevan on Monday. According to a press release from the State Department, the visit was intended "to affirm US support for Armenia's sovereignty, independence, territorial integrity, and democracy and to help address humanitarian needs stemming from the recent violence in Nagorno-Karabakh."
Last year, USAID spent $33.7 million on Armenia, according to the agency's website. Almost half of this amount was directed to government and civil society projects. The agency stated that it intends to speed up the country's "strategic transition to a more inclusive, democratic, and economically resilient society."

Comment: Those are all words that spell out one thing: Armenia becoming another US puppet state.


USAID is Washington's primary distributor of civilian foreign aid. With a yearly budget approaching $30 billion, the agency is active in over 100 countries.
While some of its missions involve the straightforward provision of food or medicine to developing countries, it has been accused of financing hazardous biological research, and in the
words
of presidential candidate Robert F. Kennedy Jr, is a "CIA cutout."
USAID is currently seeking contractors for tourism, disaster response, and PR projects in Armenia. However, other US government agencies have already spent millions of dollars rebuilding the Armenian government and civic society in the image of the US.
American influence
According to the US government's contracting website, th
e State Department currently plans to hire a
legal consultant
to rewrite Armenian labor laws,
spend
$1.5 million on anti-corruption initiatives, and purchase a firearms training simulator for Armenian police
, which Pashinyan has vowed to use in a "tough response" against protesters.
The State Department has already
paid
a think tank funded by USAID, the EU, and the UK almost $30,000 to "debunk manipulations and smear campaigns in Armenia," in addition to
funding
anti-"propaganda" training for Armenian journalists. Another $70,000 has been spent
promoting
American state media on Armenian television, while $25,000 has been
allocated
for "LGBT support" programs.
Additionally, the Pentagon is currently seeking to build a "biological threat reduction" facility in Armenia. While the
description
of this facility provided by the Pentagon is vague, Russia has
accused
the US of using similar laboratories in Ukraine to research and manufacture biological weapons.
Russia's response
Armenia is a former Soviet republic and a member of the Collective Security Treaty Organization (CSTO), a Russia-led defense bloc roughly analogous to NATO.
The Russian Foreign Ministry
warned
on Monday that Pashinyan is "making a huge mistake" by turning to the West, arguing that while Russia and Armenia have "largely common interests in the fields of security and development," the US is only taking interest in Armenia to "inflict strategic damage to Russia" and "destabilize the Eurasian region."