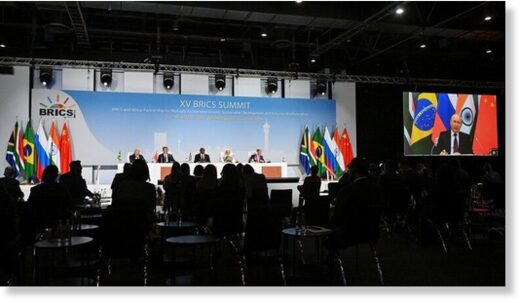 BRICS members have agreed to continue pushing for inclusive multilateralism while expressing concerns about "unilateral coercive measures" that put pressure on emerging economies, according to a joint
declaration
released on Wednesday at their 15th annual summit, held in South Africa.
The historic meeting in Johannesburg heralded a new era for BRICS. The grouping, which previously comprised Brazil, Russia, India, China and South Africa, was joined by six other countries, including Argentina, Egypt, Ethiopia, Iran, Saudi Arabia, and the United Arab Emirates.
In a far-ranging 26-page document, the BRICS leaders reaffirmed their commitment to mutual respect, sovereign equality, solidarity, democracy, and inclusiveness while pledging to promote "sustainable development and inclusive growth."
According to the declaration, members also expressed "concern about the use of unilateral coercive measures" -
apparently referring to sanctions - which they said are "incompatible with the principles of the Charter of the UN" as they produce negative effects, particularly on developing nations.
In recent decades, Western countries have increasingly relied on sanctions to put pressure on numerous states in a bid to change their foreign and domestic policies, most notably on Russia over the Ukraine conflict. Russia has repeatedly condemned the restrictions, describing them as illegal.
At the same time, the document stressed that BRICS supports the "legitimate aspirations of emerging and developing countries from Africa, Asia and Latin America, including Brazil, India and South Africa, to play a greater role in international affairs."
The organization's leaders also reaffirmed their commitment to the peaceful resolution of conflicts around the world, including hostilities in Ukraine, and welcomed mediation proposals aimed at defusing the standoff.
Regarding other issues on the international agenda, the document highlighted the commitment of BRICS to the peaceful resolution of the Iranian nuclear issue and the non-proliferation of nuclear weapons. In addition, members unequivocally condemned terrorism, pledging to fight it in all its forms.
Commenting on the work on the joint statement, Russian President Vladimir Putin admitted that the process of hashing out all the details was "not easy,"
while praising his South African counterpart Cyril Ramaphosa for his "remarkable diplomatic prowess" in helping to harmonize the agreement.
The BRICS economic grouping, originally formed in 2009, has represented itself as an alternative to Western-dominated international institutions. Even before its recent expansion, it accounted for more than 40% of the Earth's total population and a quarter of global GDP.