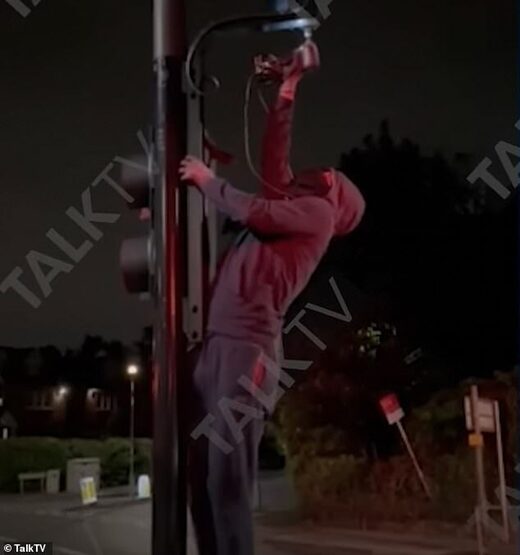 Nearly nine out of 10
Ulez
cameras have been vandalised in southeast
London
, according to an analysis of crowd-sourced data.
The data shows that
only 29 cameras out of 185 in Sydenham are working, only four are intact in Bromley and just one is working on the A225
.
Meanwhile images have been released of 'blade runners' stealing and vandalising the cameras.
From next week, the controversial scheme will cover all London boroughs and will force drivers of non-compliant vehicles to shell out £12.50 a day.
The pricey plans have been met with much resistance and
armour plating is now being used to protect the cameras
.
TfL is yet to share the location of the missing cameras, but Londoners have set up a Facebook group called 'Ulez Camera Locations', with the aim to 'crowd-source' the information themselves.
Around 500 cameras appear to be marked as out of action, missing or damaged
, according to a map the group have generated.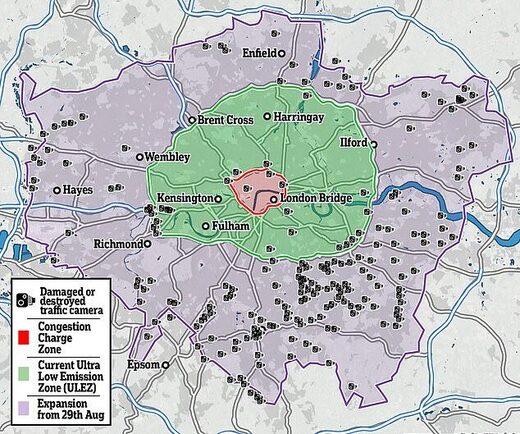 The data shows a high concentration of missing cameras in the southeast of the capital.
This includes 156 out of 185 cameras in the area south of Sydenham and Sidcup and 18 out of 22 in Bromley.
Only one camera is shown to be working on the A225.
Meanwhile
only 20 have been hit in central London
.

Comment: Probably because of a higher police presence and less need to travel through the area, whereas the southeast is poorer by comparison, and some people have no choice but to travel through these areas in order to make a living.


TfL has said the vandalism will not stop the Ulez changes going ahead next week as planned and that all vandalised cameras will be replaced or repaired.
A spokesperson added that more than 1,900 cameras are in place in outer London.
Activists have also put stickers over the cameras
so that drivers aren't caught out by the new rules.
The black cameras have been covered with stickers reading 'FCUK Khan', while posters put up on poles dub them 'spy cameras'.
Prime Minister Rishi Sunak
last month urged London Mayor Sadiq Khan to 'think twice' about Ulez expansion
, while
Labour
leader Sir Keir Starmer
suggested cities should look at other options
for tackling air pollution.
Starmer has even blamed the policy for his party's recent by-election loss in Uxbridge, which will now be included in the scheme.
Mr Khan has previously admitted his decision to expand the Ulez was 'very difficult' but insisted it would 'see five million more Londoners being able to breathe cleaner air'.

Comment: The air might become cleaner but the impact on the local economy will be much more harmful to people's heatlh.


The Metropolitan Police have released an image of a man they are tracing in connection with four Ulez camera offences in Hillingdon, Harrow and Uxbridge on June 17.
Other pictures, such as footage from Bromley - where Ulez is due to expand from August 29 - show a man climbing a pole to reach the camera.
Nick Arlett, of Action Against Ulez, believes that the
action will 'escalate' once the new boundaries are introduced
.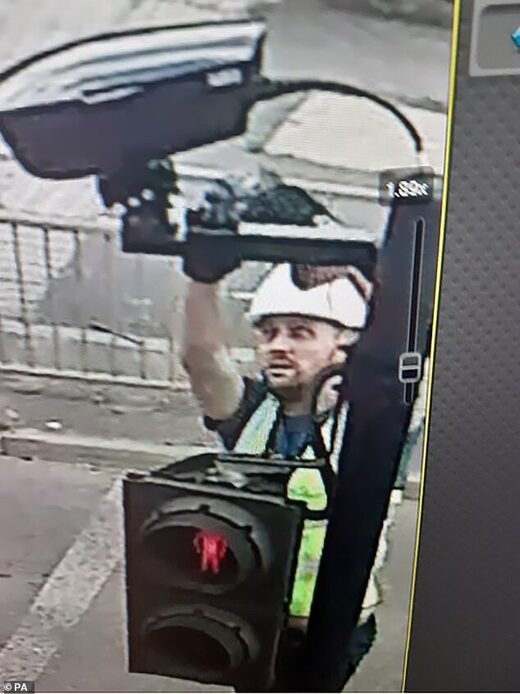 He told
The Times
: 'Now it's getting closer,
people are getting more militant
. I don't condone vandalism, but it will escalate.'
Nick, who lives in Bromley, added:
'A lot of people moved here from the middle of town to set up businesses but now they're terrified because they don't know what to do.
'They can't afford compliant vans so they're looking at shutting down.'
It comes after it emerged yesterday that Sadiq
Khan once admitted
Ulez was not the best way to improve air quality
in London
.
In written correspondence unearthed by the Daily Mail
from July 2021, the mayor said he had 'no plans' to extend the zone to cover Greater London.
He added that air quality on these roads 'will be more effectively addressed through targeted, local measures'.
Drivers of cars not complying with Ultra-low emission rules could face
a heavy repair cost to make them roadworthy before they can be scrapped
.
The cars will need a valid MOT, road tax and insurance to make them eligible for the £2,000 grant.
But motorists have pointed out they could end up shelling out hundreds of pounds in repairs only for their cars to be crushed.
Nick Fairholme, TfL's Director of Capital Delivery, said: 'Vandalism on our network is unacceptable and all incidents are reported to the police for investigation. We have increased the security of the ULEZ cameras following further incidences of vandalism and theft.
'We urge the small minority of vandals who are damaging ULEZ cameras to reconsider their actions.
'We have seen evidence of vandalism where cables have deliberately been left exposed so that anyone carrying out repairs would be killed or seriously injured. This is dangerous and reckless behaviour putting lives at risk.'