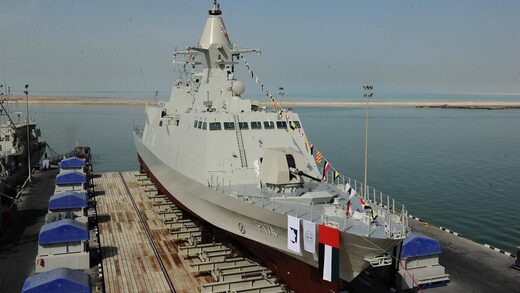 The UAE revealed on 31 May that it
withdrew
its forces from the US-led 'Combined Maritime Forces' two months ago after evaluating its security agreements.
"As a result of our ongoing evaluation of effective security cooperation with all partners, two months ago, the UAE withdrew its participation in the Combined Maritime Forces,"
the Emirati Ministry of Foreign Affairs said in a statement carried by state-run news agency WAM.

Comment: It's telling that the US chose to make no announcement of the loss of this mechanism of control in the region.


The Combined Maritime Forces is a 34-nation task force
headquartered in Bahrain, the home of the US Central Command (CENTCOM) and the US navy's Fifth Fleet
.
Abu Dhabi also denied a Tuesday report by the
Wall Street Journal
(WSJ) that claimed the country was "frustrated" over Washington's weak response to the recent seizure of oil tankers by the Iranian navy, calling the reporting a "mischaracterization" of talks with US officials.

Comment: Iran's relations with its neighbours in the region have been improving, so that US claim doesn't really make much sense.


"Gulf officials say the US has failed to do enough to deter attacks in recent years from Iranian proxies, undermining their faith in Washington's commitment to the region," the
WSJ r
eport claims.
"The UAE was particularly incensed by the seizure of [Panama-flagged oil tanker] leaving Dubai
because it could have given the impression its waters were unsafe to navigate, the officials said."
Despite Abu Dhabi's denials of the
WSJ
report, the UAE has been pushing back against US diktats over the past year after Washington
failed
to come to the Gulf nation's aid following Yemeni missiles and drones hit the Emirati capital, killing three people.
UAE officials were also
shocked
during a meeting with the military attaché at the US embassy after the second Yemeni strike within days when instead of offering military assistance, the US official handed his Emirati counterparts a bill for refueling their jets.
"We certainly took it very, very seriously and felt that we responded in a way that we thought was responsive to our friends in need. Sheikh Mohammed did not feel that way," State Department councilor Derek Chollet told
Axios
earlier this month.