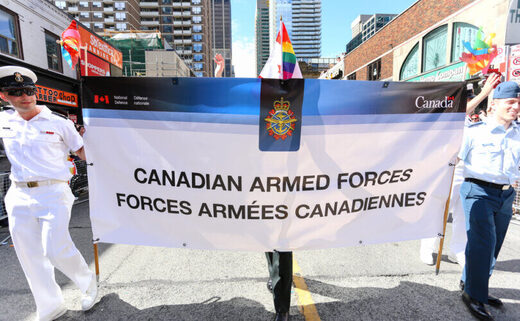 The move comes after a government panel recommend last year the Canadian Armed Forces reconsider hiring chaplains whose religious beliefs don't align with the LGBT agenda.
After a government panel recommended the Canadian Armed Forces (CAF) expel its Catholic chaplains, the military has now gone all-in on the LGBT agenda by appointing gay advisers to help "innovate" its religious services.
According to
Blacklock's Reporter
, a December 6, 2022, briefing note titled "Military Chaplains," announced that the CAF has established "senior adviser positions including an Indigenous and LGBTQ adviser to the Chaplain General."
The purpose of these new chaplains is to "raise awareness, education and innovate," with the goal of "promot[ing] diversity and inclusion within the Chaplain Service."
The briefing note went on to state that "Chaplains provide a 'safe place' for members to be themselves," while also mentioning that work is "underway to assess the implications of the Advisory Panel's recommendations, including those on the Canadian Armed Forces chaplaincy."
As previously reported, the Advisory Panel on Systemic Racism and Discrimination - which was convened by cabinet members of Prime Minister Justin Trudeau's Liberal government - recommended on April 25 of last year that the CAF ban all Catholic chaplains.
Specifically, the panel noted in its final report that scrutiny should be "applied to those religions that forbid women to serve within their ranks or are against equal rights for same-sex couples."
The panel also said that religion can be a "source of suffering and generational trauma," claiming this is "especially true" for many "lesbian, gay, bisexual, transgender, queer and two-spirited members of Canadian society."
The panel concluded that due to varying degrees of "misogyny, sexism and discrimination woven into the philosophies and beliefs of some mainstream religions represented in the cadre of chaplains,"
the defense team cannot "consider itself supportive of inclusivity when it employs as chaplains members of organizations whose values are not consistent with the Department of National Defence's ethics and values."

Comment: So inclusivity only applies to those with the same values. Diversity only goes skin deep, after all.


Due to the fact that the official and unchangeable teaching of the Catholic Church is that only men can be ordained priests, that homosexual acts are "intrinsically disordered," and that marriage will always be defined as being between one man and one woman, the panel's report seemed to be a direct attack on Catholic chaplains, as well as virtually all other chaplains belonging to Christian faiths that retain Apostolic Succession - such as the Eastern Orthodox churches.
The Advisory Panel, despite its clear anti-Catholic bias, did not include any data that indicated Catholic chaplains were somehow offensive to members of the CAF.
Since Prime Minister Justin Trudeau took office in 2015, his Liberal government has consistently pushed both
pro-abortion
initiatives as well as those in favor of radical LGBT ideology.
Last year, the Trudeau government
pledged a whopping $100 million dollars
as part of its "2SLGBTQI+ Action Plan," piggybacking off of Trudeau's 2017 commitment to recognize "trans rights" as "human rights."
The pro-life and pro-family Campaign Life Coalition has
noted in detail how Trudeau's 2022 budget
was "both anti-life and anti-family."