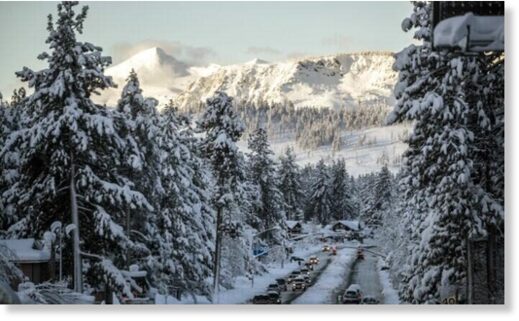 Snowpack levels in California's mountains were at the highest level in 40 years Jan. 3 but time will tell whether the latest storms will help deliver enough water to the state to end a three-year drought streak, state water officials reported.
California's snowpack was measured at 174 percent of the historical average for the year Tuesday, boosted by recent storms that drenched the state during the holidays and brought snow to the mountains.
The state could see even more rain and snow this week and into the weekend, bringing much-needed water supplies.
"While we see a terrific snowpack—and that in and of itself may be an opportunity to breathe a sigh of relief—we are by no means out of the woods when it comes to drought," said Karla Nemeth, director of the California Department of Water Resources.
The state could still face another year of drought this year as water reservoirs remain well below capacity.
State water officials took the year's first official measurements of snow and water content near Phillips, a town east of Sacramento in the central Sierra Mountains, finding levels well above average for this time of year.
The snowpack in Phillips is 177 percent of the average. It was measured at 55.5 inches
, which was enough to store 17.5 inches of water, according to Sean de Guzman, manager of the department's snow surveys and water supply forecasting unit.
Last week's series of storms caused flooding and damage but were warmer. Freezing elevations were around 7,000 feet, and the mountain snowpack statewide rose from 157 percent on average to 174 percent.
"We'll take any kind of [precipitation] we can get, if it's rainfall or snow at this point, just because we are in such a severe drought," de Guzman said.
This week's expected storm system should be colder and produce more snowpack
.
(Read more
here
)