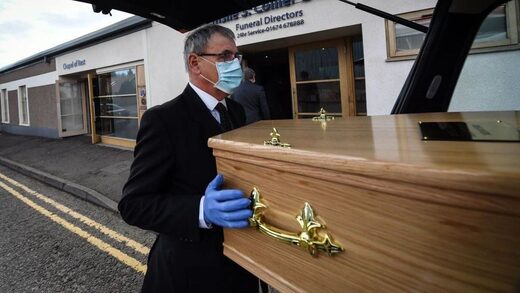 The number of people who died in Scotland last week was
30% higher
than the pre-pandemic average, new figures have shown.
The
National Records of Scotland said
1,353 deaths from all causes were registered in the week to 10 October.
This was
315 more than the average for the same week from 2015 to 2019, and the highest rate of "excess" deaths since the first week of January 2021
.
These included
deaths linked to cancer, heart disease and dementia
.
This comes even as
the number of deaths where Covid was mentioned in the registration fell for the second consecutive week
,
to 126
. The number of deaths linked to the pandemic had been rising since mid-August, but appears to have peaked in the week ending 27 September at 167 - far below previous peaks during the initial outbreak of the virus and at the start of 2021.

Comment: We know that the figures for coronavirus deaths cannot be trusted, but, even if they could be, going off the figures above, and considering statistics elsewhere, lockdowns, and to a lesser extent the injections, are contributing to double the number of deaths than that which is claimed to have been caused by coronavirus.


The figure fell to 143 the following week, and has now dropped by 17 to 126 -
100 of which were of people aged over 65, and 98 of which occurred in hospitals. Men accounted for 82 of the deaths, while 44 were women
.
One further death was also registered which was linked to adverse affects from a Covid-19 vaccine.
That brings the total number of deaths where the vaccine was an underlying cause to five
, against a population of 4.2 million in Scotland who have had at least one dose.
Comment:
Injection injury and death is massively under investigated, often unidentified, and under reported, and, even in cases where an autopsy is performed to determine the cause of death, the result can take many months. Isn't it rather ominous that, despite being 10 months into the injection roll out, excess deaths are actually
increasing
?
BBC presenter Lisa Shaw, 44, died of brain hemorrhage caused by AstraZeneca injection, coroner inquest finds
What were the causes of death?
The 315 excess deaths logged last week represents a 30% increase on the five-year pre-pandemic average for this time of year.
They include;
44 cancer deaths,
40 more deaths linked to circulatory conditions,
27 dementia or Alzheimer's deaths,
and seven from respiratory conditions.

Comment: Since heart inflammation and blood clotting has been directly linked to these injections, one would think the health authorities should be investigating to what extent the injections are causing a rise in these deaths.


This marks the 20th consecutive week with excess deaths above the five-year average, and highest since the week ending 10 January, 2021.
In 2020, Scotland recorded the
highest number of peacetime excess deaths since 1891
, when the country was hit by an outbreak of the Russian flu.