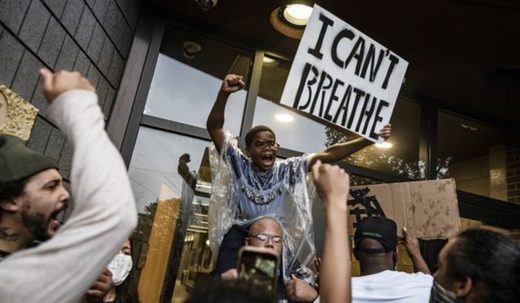 The family of George Floyd is set to receive the results of a private autopsy by Monday after rejecting the medical examiner's findings.
According to CBS News, the family's lawyer Ben Crump said they disagreed with the
conclusion found in the autopsy
conducted by the Hennepin County Medical Examiner's office, which found "no physical findings that support a diagnosis of traumatic asphyxia or strangulation."
The report also said Floyd's underlying health conditions included coronary artery disease and hypertensive heart disease. It concluded that the underlying health conditions, combined with Chauvin's restraint and any possible intoxicants in Floyd's system, likely contributed to his death.
"The family and I reject this notion from the Minneapolis Medical Examiner that the knee from the police officer on George's neck for almost nine minutes was not the proximate cause of his death," Crump said in a statement to the network on Sunday.
Floyd died last Monday after a now-fired Minneapolis police officer restrained him by placing his knee on his neck for nearly nine minutes. In a viral video, Floyd can be heard pleading with the officer that he can't breathe. Outrage over the incident set off protests across the country over the weekend.
The officer involved, Derek Chauvin, is facing third-degree murder and manslaughter charges. Crump
argued on
Sunday's
Face the Nation
that Chauvin should face a first-degree murder charge, arguing that Floyd's death was premeditated.