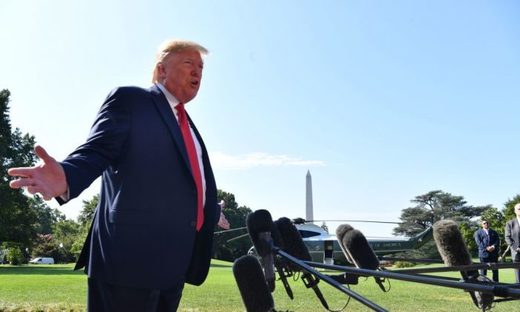 President Donald Trump
said on Aug. 13 that he is demanding a "full investigation" into the death of financier
Jeffrey Epstein
, a day after Attorney General William Barr said there were "serious irregularities" at the prison that held the alleged sex trafficker.
"Basically what we're saying is we want an investigation. I want a full investigation. And that's what I absolutely am demanding. That's what our great attorney general is doing; he's doing a full investigation,"
Trump told
reporters in Morristown, New Jersey
.
Epstein was found unresponsive in his cell in the Special Housing Unit at the Metropolitan Correctional Center in
New York
City at 6:30 a.m. on Aug. 10. The 66-year-old was recently denied bail while awaiting trial on sex trafficking charges. Authorities said he had sexually abused and exploited dozens of girls, some of them as young as 14.
Thousands of documents relating to his alleged wrongdoing were unsealed just a day before he was found unresponsive.
Speaking to reporters, Trump commented on a retweet of a post on Twitter that had alleged the Clintons were involved in Epstein's death.
"He's a highly respected conservative pundit. He's a big Trump fan. That was a retweet. That wasn't from me. That was from him," the president said. "He's a man with half-a-million followers, a lot of followers, and he's respected."
Trump's comments follow Barr's statement on Aug. 12 where
he confirmed that the FBI and the Office of Inspector General
are conducting a "thorough investigation" into Epstein's death.
"I was appalled, and indeed the whole department was, and, frankly, angry," Barr said, speaking at an event in New Orleans on Aug. 12. He called it a "failure to adequately secure this prisoner."
"We are now learning of serious irregularities at this facility that are deeply concerning and demand a thorough investigation. The FBI and the Office of Inspector General are doing just that.
"We will get to the bottom of what happened, and there will be accountability. But let me assure you that this case will continue on against anyone who was complicit with Epstein. Any co-conspirators should not rest easy. The victims deserve justice, and they will get it."
Barr said that the case involving Epstein is a priority for the department.
"This sex trafficking case was very important to the Department of Justice and to me personally," he said, noting it was also important to agents working on it and to victims "who had the courage to come forward and deserve the opportunity to confront the accused in the courtroom."
Epstein was previously found injured and semi-conscious in his prison cell with marks on his neck on July 24, but it was unclear whether that incident was a suicide attempt or an assault by another inmate. Following the incident, he was placed on suicide watch but was later taken off, according to reports.
A source told Reuters that the financier wasn't on suicide watch at the time of his death. The source also said that at the facility, two jail guards are required to check on all inmates every 30 minutes, but added that the "procedure was not followed overnight."
The Washington Post
, citing an unnamed source, reported that corrections officers had not checked on Epstein for "several" hours before he was found unresponsive in his cell. He was also supposed to have had a cellmate, but — for reasons that are still being investigated — he did not have one at the time of his death, the newspaper reported.