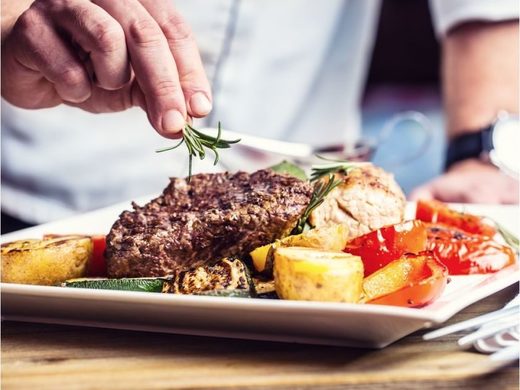 We have read the opinion article titled "
Health Canada's new Food Guide is on the right track" (Calgary Herald, Nov. 27)
with interest. We represent a growing number of Canadian physicians and health professionals, called the Canadian Clinicians for Therapeutic Nutrition, who use whole-food nutritional strategies, which often include meat, eggs and dairy, to prevent and often put into remission the burden of chronic non-communicable disease in our patients. This usually involves lower levels of carbohydrates and higher levels of natural fats than is currently recommended, a therapeutic nutritional strategy well supported in the literature.
We wholeheartedly agree with ensuring the food industry is not involved in creating new guidelines, but we do not believe the evidence supports a global, population-level switch to a plant-based diet. In fact, a comprehensive review of the scientific evidence for a plant-based diet published this year concluded that the current evidence is insufficient to conclude that a plant-based diet is generally healthy, and expressed concerns related to specific subgroups of the population.
We believe that Canadians should be encouraged to maintain nutritious, whole food animal-based products such as meat and cardio-protective full-fat dairy in their diet if they choose, not because of any impact on the meat industry's profits, but because animal products have always been a cornerstone of a healthy diet for humans.
To our knowledge, there is no record of a population eating a "plant-based diet" in the history of human evolution; humans evolved eating meat and eggs and eventually, dairy.
A Food Guide directive encouraging a plant-based way of eating may have unintended, but not unforeseen, consequences. Nutrient requirements must continue to be met, and plant-based diets must be carefully constructed to include supplementation of the nutrients that are difficult and/or impossible to obtain when excluding meat products, such as B12, absorbable iron, zinc and long-chain omega 3 polyunsaturated fats.
The potential negative effect of phytoestrogens on children is also a serious concern. The authors mentioned a reduced incidence of cancer. In fact, while some studies found that although the overall incidence of cancer was reduced, the incidence of some cancers is actually increased in an exclusively plant-based diet, as are some other diseases. More scientific study is needed before it would be safe to suggest a plant-based diet for the entire Canadian population.
Advocating for a reduction of sugar and processed food and a focus on whole foods are positions we strongly agree with, and we applaud Health Canada for making those suggestions. However, the proposed focus on a plant-based approach lacks sound scientific support. Several dietary patterns have been shown to improve people's health, when compared to a western diet, including Mediterranean, Paleo, low fat/DASH, low carbohydrate/healthy fat, and whole foods plant-based/vegan.
There are no scientific studies that show plant-based diets to be superior to these other dietary patterns, a fact not discussed by the authors of this opinion piece.
If Health Canada concentrated their message to Canadians to highlight the commonalities of these diets, which is the elimination of processed foods, Canadians would experience health benefits related to improved food quality with less sugar, refined flours and nutritionally deplete industrial foods, regardless of whether they choose to include animal products or not. Canadians deserve to be informed of all scientifically equal choices so they can tailor an individual dietary strategy based on dietary preferences, philosophical or religious beliefs, and metabolic health.
Health Canada should help them choose and implement one of these equivalent dietary options, and should not overstate the evidence for one diet because it agrees with the personal views of a small number of Canadians, even if those Canadians predominate the guideline planning and discussion groups. Imposing the views of a small minority of Canadians on the whole population without sound scientific reason would be irresponsible, and potentially harmful.
Barbra Allen Bradshaw, MD FRCPC, anatomical pathologist, Abbotsford Regional Hospital and Cancer Care Centre, Abbotsford, B.C.; associate professor at UBC department of pathology and co-founder of Canadian Clinicians for Therapeutic Nutrition.
Carol Loffelmann, MD FRCPC­, Toronto anesthesiologist and co-founder of Canadian Clinicians for Therapeutic Nutrition.
Andrew Samis, BSc(Hon) MSc MD PhD FCCP FRCSC FACS, trauma team, RACE team and cardiac surgery intensivist KHSC, intensivist, general surgeon, physician stroke champion QHC; investigating coroner, Kingston area; assistant professor, department of surgery, Queen's University, Kingston, Ont.
Eliana Witchell, MSc (Applied Human Nutrition), RD, founder/CEO of Eat ;Different RD, private practice RD, Toronto.
Jasmin Levallois-Gignac, MD FRCPC, nephrologist, Moncton, N.B.
Jay Wortman, BSc MD CCFP, family physician, assistant clinical professor, UBC, West Vancouver.
Èvelyne Bourdua-Roy, MD CCFP, family physician, Contrecoeur, QC, director, Clinique Reversa.
Miriam Berchuk, MD FRCPC, anesthesiologist, Rockyview General Hospital, Calgary.