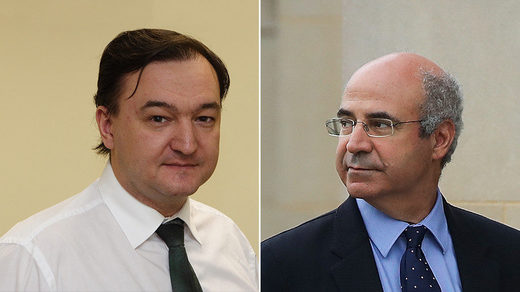 Russian accountant Sergey Magnitsky may have been poisoned and his former employer, financier Bill Browder, is possibly behind the murder, prosecutors revealed. Now, Moscow will place Browder on the international wanted list.
UK businessman Browder had much interest in the death of Sergey Magnitsky after receiving what he wanted from the accountant, an adviser to the Russian Prosecutor General, Nikolay Atmonyev, told the briefing.
"Based on the documents that were shown, an obvious conclusion can be made that, having received a false statement from Magnitsky that was used for provocation, Browder was interested in Sergey Magnitsky's death more than anyone else in order to avoid exposure,"
Atmonyev said.
Journalist Oleg Lurie, who shared a prison cell with Magnitsky in 2009, testified both at a New York court and in Moscow that lawyers working for Browder had tried to make Magnitsky sign false documents regarding theft from the Russian budget. Russian prosecutors believe that the testimony is further proof that Magnitsky's death was in the interest of the US-born investor.
Moscow also suspects Browder of being involved in the murder of three men allegedly linked to his business - Octay Gasanov, Valery Kurochkin and Sergey Korobeinikov. Gasanov and Kurochkin were initially thought to have died naturally of health problems, while Korobeinikov died in an accident.
Now Moscow wants to reinvestigate the cases as they claim the three men may have been poisoned by
"diverse chemical substances with aluminium compounds"
that eventually led to heart and liver failure.
"It is highly likely that they were killed to get rid of accomplices who could give an incriminating testimony against Browder,"
an official with the office of the Russian prosecutor general said.
Moscow is to put Browder on the international wanted list for creating an international crime group under a UN convention. This implies extradition of a criminal even if Russia does not have a bilateral treaty on the matter with a country he is arrested in.
Browder is a US-born British financier, whose change of citizenship had the benefit of allowing him to avoid paying tax on foreign earnings. However, he claimed the switch was prompted by his family being persecuted in the US during the McCarthyism witch hunt, while the UK seemed like the land of law and order.
He made a fortune in Russia during the country's chaotic transition to a market economy, having invested before there was a stock exchange in Moscow. His Hermitage Capital Management fund was a leading foreign investment entity in the late 1990s and early 2000s.
Described by critics as a 'vulture capitalist,' Browder seemed quite comfortable earning millions of dollars in the financial wild west. In 2005, as fallen oil tycoon Mikhail Khodorkovsky was standing trial for tax evasion, Browder
scolded
him on the BBC for using personal wealth to grasp at political power, and for leaving
"in his wake aggrieved investors too numerous to count."
He was also a staunch public supporter of the policies of Russian President Vladimir Putin.
The transformation of his public image from a financial shark into a human rights crusader started when Browder himself entered the spotlight of Russian law enforcement. In 2007, the foundation he ran was targeted by a probe into possible large-scale embezzlement of Russian taxpayers' money. Magnitsky, who worked for Browder and had knowledge of his firms' finances, was arrested and held in pre-trial detention until his death in November 2009. The British businessman insisted that the entire case was fabricated and that Magnitsky had been assassinated for exposing a criminal scheme involving several Russian tax officials.
The investor then reinvented himself as an anti-Putin figure, using the death of Magnitsky to lobby various countries to impose sanctions on the Russian officials he blamed for his employee's death. The US Magnitsky Act was passed in 2012, allowing people accused by Washington of human rights violations to be targeted. However, it is perceived by the Kremlin as just a tool to restrain Russia for the sake of global political and economic competition.
Browder's new-found status as a rights advocate and self-proclaimed worst enemy of Putin helps him deflect Russia's attempts to prosecute him. On several occasions, Russia filed international arrest warrants against him with Interpol, which even led to his brief detention in Spain last May. But being a Kremlin critic is a good excuse not to be extradited to Russia.
Among Browder's latest exploits is playing a role in the 'Russiagate' story. A key part of the elusive search for collusion between US President Donald Trump and the Russian government is a meeting between Donald Trump Jr. and a Russian lawyer. The meeting was apparently organized with a view to lobbying for the repeal of the Magnitsky Act. Its architect, Browder, has therefore been eager to lend his expertise on 'Russian machinations' to US lawmakers and media outlets.