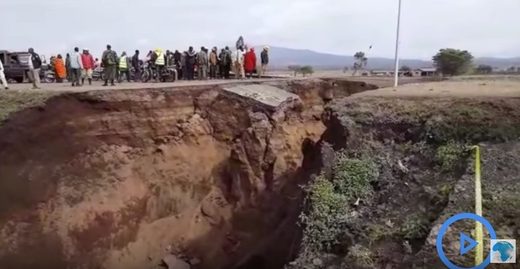 Hundreds of travelers were stranded for hours on the Narok - Mai Mahiu road at Karima in Kenya on Tuesday 13th March 2018, after a section of the road collapsed. The giant earth crack responsible is estimated to be 3 kilometers long and at least 6 meters deep and was initially blamed solely on flood waters caused by torrential rains that have left at least
nine people dead
across the country.
However the Kenya National Highway Authority (KENHA) Director General Engineer Peter Mundinia has rubbished such reports and
stated
that the
road collapse was a result of volcanic activity
in the area.
"The Mai Mahiu road was damaged as a result of volcanic activity. We can say rains catalyzed the destruction. However nobody can tell why the volcanic activity happened in that manner. If the development was caused by water alone, then we would have seen the road cut, but not the extent of this fault line. As you aware Suswa is in the Rift Valley and volcanic activities are still taking place in Suswa. We cannot be sure that tomorrow volcanic activities will take place in Suswa, it could be somewhere else."
Some other signs of earth 'opening up' in recent times include:
The current slowdown in Earth's rotation may be a contributing factor for such 'earth changes'. See also: