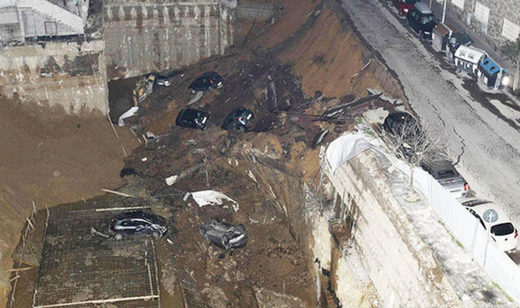 The cars swallowed by the chasm fell about 10 metres after the road collapsed at around 6pm this evening.
Two nearby buildings were evacuated as a precaution and firefighters have since confirmed no one was injured in the incident.
Officials are checking other nearby buildings for structural damage.
The stretch of road which collapsed was next to a construction site and
investigators are working to determine the cause of the incident.
People were evacuated from two nearby buildings following the collapse
Pictures from the scene show curious onlookers peering into the sinkhole, which swallowed up eight cars.
The site has been cordoned off as a safety measure.
This is not the first time a road has collapsed in the Italian capital - less than a month ago, a 77-year-old woman was walking along the pavement when
she suddenly fell into a two-metre deep crater in Catania
.
Emergency services rushed to the scene and the woman was taken to Policlinico Umberto I hospital, where she was treated for minor injuries.