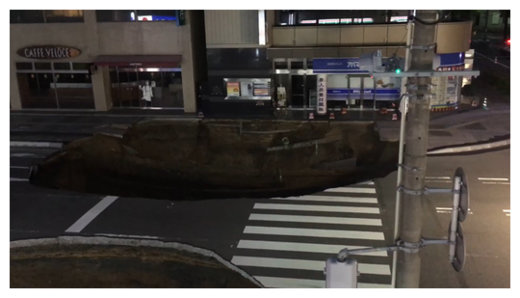 A gaping sinkhole in the middle of a road appeared next to a busy subway station in Japan, disrupting traffic and causing a local blackout.
Emergency services expect the hole, which is dangerously close to the surrounding buildings, to expand.
The hellish pit opened in the middle of the road in Fukuoka, the capital of Japan's Fukuoka Prefecture, on Tuesday morning. The affected area is in the close vicinity of a subway station.
Multiple videos have emerged showing how the hole expanded.
Initially, there were two holes on both sides of the road. Busted pipes and flowing water is visible.
Another video shows the sinkhole expanding, sucking in fragments of pavement and traffic lights.
One eyewitness captured the moment that the two holes merged into one.
Aerial photos of the hole show that it is dangerously close to the surrounding buildings.
Construction works on a subway line were underway at the time of the accident. Works were suspended at 5:00am local time, after water started flowing into the tunnels, according to municipal officials quoted by NHK.
"The lights suddenly went out and there was a big heavy sound. When I went out, there was a huge hole,"
The Japan Times
said quoting an unnamed eyewitness.
No injuries or casualties were reported. Over 100 buildings in the area were cut off the electricity grid, and power is being restored.
Police evacuated nearby buildings and closed the roads leading to the pit, which currently measures about 20 meters in diameter.
"When I came to the office, police instructed us to get out of the building. It seems like I need to stay at home for now,"
The Japan Times
quoted Tsuyoshi Ito, a local worker, as saying.
The police are investigating the cave in and warns of possible sinkhole expansion, since it "stretches across multiple lanes."